(Lemon speculoos ice-cream)
There were some days last week when I would wake up and feel relieved that yesterday was over. It was hard not to feel a bit mopey since the boy had been away for so long. One upside was that it gave me plenty of time to tick things off my to-do list, and subsequently to come up with a few new and silly ones.
Like my Top 5 desert island ice-creams list, which after much consideration reads as follows. In no particular order :
1) Rum 'n' Raisin
(A inexplicable regular feature of any of my imaginary ice-cream lists. Maybe I was abducted by pirates as a child.)
2) Bitter chocolate
(Good chocolate ice-cream is a miracle in itself.)
3) Beer sorbet
(Because after an exhausting day trying to get rescued from a deserted island, everyone deserves an ice cold refreshing beer.)
4) Raspberry vanilla ripple
(I'm obsessed with things that ripple and swirl. Also, it's almost like cheating and having two flavours in one. One bite and it's vanilla! Now it's raspberry!)
5) David Lebovitz's lemon speculoos ice-cream
(I never was a fan of cookies 'n' cream ice-creams, but this I could definitely get behind.)
To the uninitiated, speculoos is a spiced cookie. It is truly wonderful folded through ice-cream, or even eaten on its own. I had to make two batches of speculoos for this recipe because I accidentally ate all of the first batch! You can find the recipes in David Lebovitz's book.
To accompany the ice-cream, I poached some peaches in ale, after buying a bag of peaches at the market. If you can't get peaches, try preserved cherries, but really, the ice-cream is already spectacular on its own. Amazing what a little refrigeration can do for you on a desert island. Or would that be dessert island?
Ale poached peaches :
4 ripe yellow peaches, blanched, refreshed and peeled
1 x 330ml bottle pale ale
750ml (3 cups) water
1/4-1/2 cup sugar
2 cloves
1 long pepper, crushed
In a pot, bring the ale, water, sugar and spices to a boil, stirring to dissolve the sugar. Taste the liquid and add more sugar if you wish. I prefer mine to be less sweet. Lower the peaches into the liquid and simmer until just tender. This should take no more than 5-10 minutes. Remove the peaches and reduce the poaching liquid to a light syrup. Cool, then pour the syrup over the peaches and keep chilled until you're ready to use.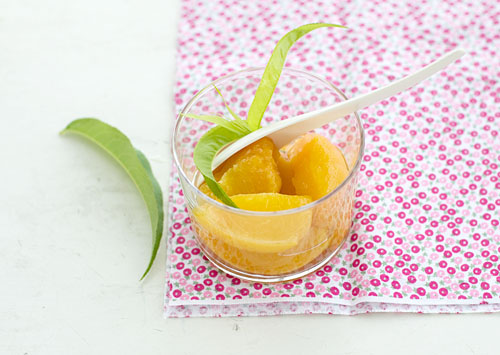 Tags: beer, cinnamon, cookies, David Lebovitz, ginger, ice-cream, peaches, speculoos