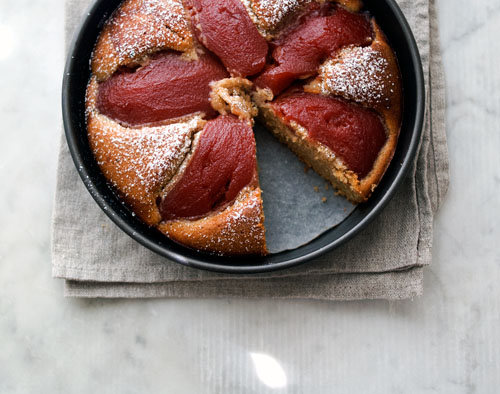 (Quince brown butter cake)
Two months into Autumn and I'm finally getting a sense of the season we're in. Chestnuts are in the shops, along with fuzzy yellow quinces, mandarins and gorgeous ripe persimmons. It strikes me that chestnuts and quinces in particular are two things that require a bit of work before they bridge that gap between why-bother and food-nirvana. I couldn't resist combining the two in a dessert for friends recently, and know just how laborious it is to cook with them.
Prior to being taught more about quinces, I'd only ever thought of them as the sugary rubbery stuff usually served with cheese. Now every year, I cook them slowly in a not overly sugary syrup, and store them in jars, to be folded into steamed puddings, ice-cream or baked as tarts. When the last bit of cooked fruit has been scooped from the jar, the remaining liquid is then used to soak a sponge, make a custard (Eliza Acton's recipe for quince custard uses the poaching liquid, egg yolks and not much else. No dairy!) or even reduced to glaze a ham. If you don't have the patience or the dessert gene, try the lamb and quince tagine from Alice Waters' Chez Panisse Fruit instead. The fragrant fruit makes such a statement even in that simple savoury dish.
Today, I really wanted cake, so I made one based on a recipe by Claudia Fleming in her book, The Last Course. This cake is somewhat like an over-sized financier, and has a tight crumb with a deep caramel-like flavour of brown butter. You could serve it with cream or ice-cream, but really I think it's perfect with just a simple cup of tea.
Quince brown butter cake :
115g butter, browned, strained and kept warm
120g icing sugar
130g buckwheat flour
pinch of sea salt
1/2 teaspoon baking powder
1/2 teaspoon ground long pepper (if you don't have this, use a spice of your choice)
1/2 teaspoon ground cardamom
150g egg whites
finely grated zest of 1 mandarin
1 large slow-cooked quince, sliced
Grease and line the base of a 7.5″ round pie tin. (see note below)
Preheat the oven to 190'C.
Combine the icing sugar, flour, baking powder, salt, spices and zest in a bowl. Whisk in the eggs whites thoroughly, then gradually whisk in the warm brown butter. Pour the mix into the prepared tin. Top with slices of quince. Bake in the oven for about 30 minutes or until a skewer inserted into the cake comes out clean. Once cooked, allow to cool on a wire rack. Brush the cake with some of the quince cooking liquid, and just before serving, dust the top with a little icing sugar.
[To cook quinces : Wash and peel the quinces, cut in half and place them into a pot with a solution of 3 water : 1 sugar. Add sliced lemon, 1 cinnamon stick, a few crushed cardamom pods, and a split vanilla bean if you wish, and bring to a boil. Once it comes to a boil, turn the heat down, place a cartouche (circle of baking paper) over the quinces and continue to cook on very low heat for several hours until the fruit is completely cooked through and have turned a deep ruby colour.]
[Note about baking tin : I used an unusual sized tin for this cake. You can use a larger one or bake individual cakes, and adjust the baking time accordingly.]
Tags: brown butter, buckwheat, cake, gluten free, quince, spices