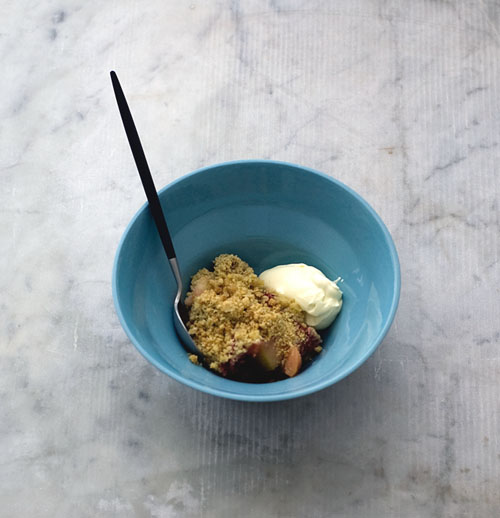 (Apple and strawberry crumble)
Crumbles. Well, everyone's made them at some stage of their baking pursuits. My favourite has usually been cinnamon apple, most certainly with an oat based topping, and definitely served alongside vanilla ice-cream.
Nothing much has changed over the years, although I'm growing to really love apple and strawberry as a combination (but still have a strange aversion to the very popular flavour duo of strawberry and banana, as seen in many yoghurts and smoothies). Since the climate here in Australia is so varied, we currently have local apples in season, as well as strawberries from further north, where the warm Winter weather is perfect for growing them.
My tip for making crumbles is : Don't peel the apples. There is plenty of flavour (and dare I say it, .. nutrients) in the skins and it softens as it cooks to the point where you don't notice the skins are present in the final dish. My other tip is, make more than you think you need, because it reheats beautifully and I'm pretty sure "too much crumble" has never been a documented malady. Ever.
Apple and strawberry crumble :
As many apples (green, or a combination of red and green apples) and strawberries as you like (6 apples and 1 punnet of strawberries will comfortably feed 4-5 people)
Wash the fruit. Core the apples and chop them to a rough 2cm dice. Gently cook the chopped apples in the juice of half a lemon, a few tablespoons of caster sugar and a splash of water. When the apples are tender, toss in the hulled berries and a teaspoon of vanilla extract. Transfer the fruit into a baking dish, cover generously with crumble and bake in a 175'C preheated oven for 25-30 minutes until the fruit is bubbling away at the edges, and the crumbled topping is golden.
For the cinnamon oat crumble topping :
120g plain flour
60g butter
60g brown sugar
3/4 teaspoon ground cinnamon
pinch of sea salt
30g rolled oats
Combine all the ingredients together, rubbing the butter in until it resembles bread crumbs. Set aside until required.
Tags: apple, dessert, strawberry