(Honey Poppyseed Challah)
The above loaf was double glazed, sprinkled with poppyseeds and slipped into the oven. For forty agonising minutes, there was a gentle scent of warm honey in the air. All I wanted to do was star-wipe to the moment when I would be sitting down to a plate of fresh challah French toast. Soon, soon.
In truth, I don't eat much French toast or even bake challah very often. But over a bowl of oatmeal the other morning, I found myself fantasising about a pile of fried eggy bread, dripping with honey and sweet blueberries. (Yes, I often think about other foods I'm not eating as I eat. Doesn't everyone? Some things are a little harder to attain at short notice though.. like a fresh fish breakfast from Tokyo's Tsukiji market or one of Pierre Herme's magical Ispahan macarons.)
The general lack of fresh baked challah in our home probably stems from my fear of braids. Having lived most of my life thus far under the same bowl haircut, you could say what was lacking was sufficient childhood braiding experience. For the purposes of this exercise, I used Rose Levy Berenbaum's traditional challah recipe from her book, which you can also find here. After gravely contemplating instructions for the 6-braid loaf, I wimped out and opted for the simpler 3-braid, which still managed to get screwed up slightly.
But I did learn a few things along the way.
If you prepare the dough the day before and chill it overnight, you can bake it the next day, just in time for morning tea. There are several subtle things you can do to enhance the quality or flavour of the loaf. Substituting honey for sugar makes the baking bread smell *amazing* and the flavour in the end product is really lovely and delicate. Melissa Clark uses orange juice and extra virgin olive oil in her recipe, which I can imagine must also make for a very delicious loaf. If you're considering making this, go for 6-braids. There's even whispers of a 9-braid loaf for the most daring.
Do it, and let me know what time I should be over for breakfast.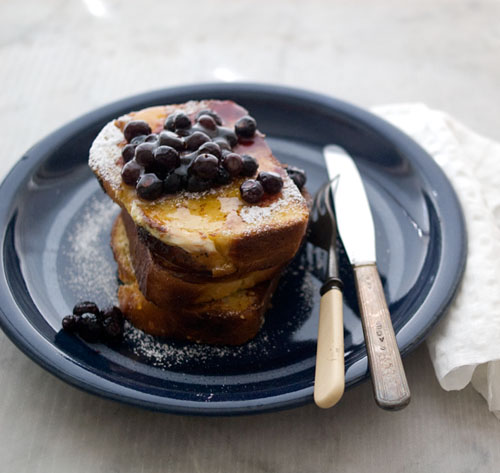 Tags: bread, honey, poppyseeds, Rose Levy Berenbaum, yeast