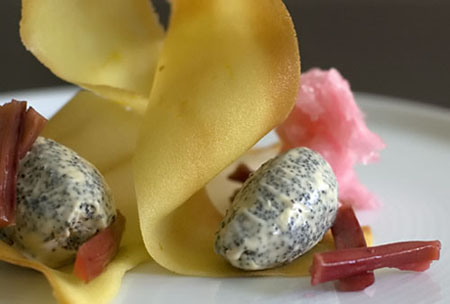 I had been waiting for what seemed like an excrutiatingly long time, for my preordered Fat Duck cookbook to arrive. A couple of days ago, I got home to the sight of a huge parcel leaning casually against our front door. I dragged it into the apartment and ripped it open, rather excitedly. Unfortunately, it wasn't the Fat Duck book, which at the time I thought I actually forgot to order. Instead, amongst the plastic packaging was a copy of Marcus Samuelsson's Aquavit. Oh, when did I order that?
Flipping through the book (always from the back first, where the desserts are!), the words poppy, seed, parfait, caught my eye. I had never really thought about this before, but I seem to have a certain fondness for most things poppyseed-related. Lemon and poppyseed cake would be the first thing that comes to mind, but I've also seen lots of creative ways in which people utilise poppyseeds, such as in a vinaigrette dressing and in pasta dough. My friend Gabby also makes the most amazing Hungarian poppyseed pastry rolls called beigli.
This dish is my interpretation of Marcus Samuelsson's recipe. The rhubarb in particular was very delicious – rhubarb and ginger are one of those heavenly matches that always leave me reaching for more. With the leftover cooking liquor, I diluted it a little, and froze it to make a pretty-in-pink granita to complement the rest of the dish.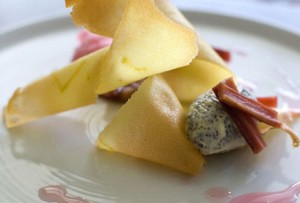 As for the Fat Duck book? Well, I've since realised that I didn't forget to order it afterall, so now I'm the ridiculous owner of not one but two copies of that gorgeous book. How, I ask you, do I manage to do these things!? 😛
Poppyseed Parfait :
(from Aquavit, by Marcus Samuelsson)
1 cup poppyseeds
1/4 cup pine nuts, lightly toasted
scant 1/4 cup honey
3 cups heavy cream
5 large eggs
2/3 cup sugar
2 tablespoons dark rum
1 vanilla bean, split lengthwise in half
Combine the poppyseeds, pine nuts and honey in a small saucepan and heat over low heat for about 5 minutes, until the honey is liquefied. Remove from the heat and let cool.
In a large bowl, whip the cream until it holds soft peaks. Set aside.
Combine the egg yolks, sugar, and rum in the top of a double boiler or a heatproof bowl. Scrape the seeds from the vanilla bean and add the seeds to the pan. Set over simmering water and heat, whisking constantly, until hot to the touch. Remove from the heat and continue to whisk until thick, pale yellow, and cool. Fold in the poppyseed mixture, then fold in the whipped cream.
Divide the parfait among eight glasses. Cover and freeze for at least 6 hours, or overnight.
Poached rhubarb:
(a variation on Marcus Samuelsson's recipe for a rhubarb compote)
300g trimmed rhubarb stalks
1 cup sugar
1 cup water
1 stalk fresh lemongrass, lightly smashed and cut into 4cm lengths
1 small piece ginger, peeled and coarsely chopped
1 vanilla bean, split lengthwise in half
Cut the rhubarb into 4cm lengths. Slice each piece into 1/2, or 1/4 if they are thick pieces.
Combine the sugar, water, lemongrass and ginger in a medium saucepan. Scrape the seeds from the vanilla bean and add the seeds and pod to the pan. Bring to a boil, turn off the heat, and let stand for 20 minutes to infuse the liquid with flavour.
Strain the infused liquid and return it to the saucepan. Add the rhubarb and simmer for 10-15 minutes or until the pieces are just tender. Remove from the heat. Strain the liquid and let cool slightly before serving.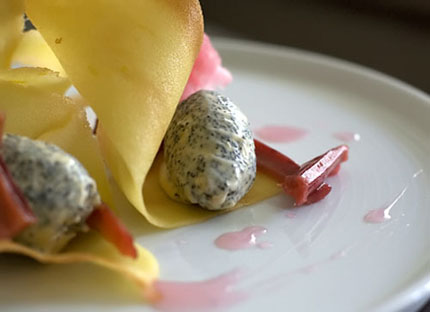 Tags: lemon, parfait, plated dessert, rhubarb, tuilles