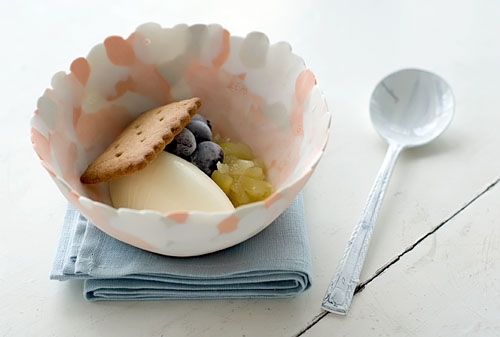 (Lime yogurt pudding)
A few weeks ago I bought the last of the cheap and flavoursome blueberries from the shops and stored them in the freezer for future consumption (a bit weird I know, but I like snacking on berries and grapes while they're still semi-frozen).
Now that the days have gotten cooler, and the short sleeves have gone back into storage, I've been thinking of things I can bake with fleshy persimmons, custard apples and new season apples. This is the season when the dreamer in me also hopes to spend an afternoon at an apple farm, picking sweet and impossibly crisp apples to be later transformed into a hot pie or crumble.
In the meantime, the reality is that as I rarely have time to cook at home and usually obtain most of my produce more locally. It's hardly romantic to enthuse about the bag of apples and limes you bought from the supermarket, but that's what I ended up with the last time I went shopping. With the lime zest, I made a tangy and creamy yogurt pudding. The juice was reserved for a curd which I'll feature in a future post.
We had the pudding with spoonfuls of apple compote, frosted blueberries and wheat-free Finnish cookies. A nice way to segue into a season of scarves, cups of tea, fallen leaves and if truth be told, also the season to find yourself side-stepping spiders!
Lime yogurt pudding :
(serves 6; based on a recipe in Wild Weed Pie by Janni Kyritsis)
4 sheets gold strength (10g) leaf gelatine, soaked
200ml 35%-fat cream
80g caster sugar
zest 2 limes
600ml plain yogurt
Combine half the cream with the sugar and lime zest in a small saucepan and bring to a simmer, stirring. Meanwhile, whip the remaining cream and keep chilled. Squeeze the gelatine to remove as much water as possible, then add to the heated cream and stir until dissolved. Remove from heat and allow to cool a little before whisking in the yogurt and finally folding in the whipped cream.
Divide the yogurt mixture between 6 greased dariole moulds or cups and refrigerate until set.
[NB : I set the whole mixture in a large bowl from which we scooped as much or as little as we wanted]
Finnish Barley Cookies (Ohrapiparit) :
(makes about 4 dozen cookies ; recipe from The Great Scandinavian Baking Book by Beatrice Ojakangas)
1 egg
1/2 cup sugar
1/2 cup melted butter
1 1/2 teaspoons ground cinnamon
1 1/2 cups barley flour
1/2 teaspoon baking soda
In a large bowl, whip the egg and sugar. Add the melted butter and cinnamon. Combine the flour and baking soda and mix in until a smooth dough forms. Chill until firm.
Preheat oven to 200'C.
On a lightly floured surface, roll dough out to about 1/8-inch thickness. Cut into 2-inch or 3-inch rounds, then cut each round into halves to make half-circles. Place on lined baking sheets and bake until lightly browned, about 8 to 10 minutes.
[NB : Instead of cutting into rounds, I cut the cookies with a rectangular cookie cutter]
Tags: apple, Beatrice Ojakangas, cookies, plated dessert, savoury, wheat-free, yogurt