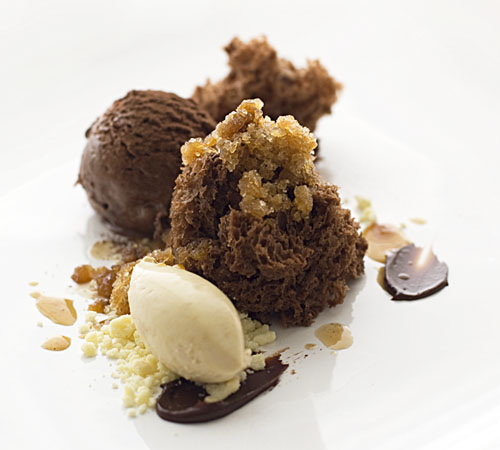 (Tiramisu : Another way to 'pick me up')
The February 2010 Daring Bakers' challenge was hosted by Aparna of My Diverse Kitchen and Deeba of Passionate About Baking. They chose Tiramisu as the challenge for the month. Their challenge recipe is based on recipes from The Washington Post, Cordon Bleu at Home and Baking Obsession.
Tiramisu is something I rather enjoy eating and have made many times before. Friends tell me of a local restaurant where if you order tiramisu, it is brought to your table in a large glass bowl and scooped right in front of you. Surely the perfect way to enjoy tiramisu!
For the challenge this month, I thought I would try to present tiramisu in a different way whilst still retaining it's rustic charm. Instead of assembling the components, I used them individually on the plate. My first attempt at this was not too successful. I think I was trying too hard to use all the necessary components on the plate, and sometimes you really can't force something that just doesn't fit.
At this point, I was humming a little ditty by Cher because I had run out of a few components and wasn't sure if I'd have time to make them again. Luckily I managed to find a spare moment and decided to risk a second attempt – this time also boosting the chocolate content two or three-fold. What you see above is the end result.
The sponge is from here. It is light, very flavoursome, and lots of fun to make (what a great dinner party piece it would be, to get your guests to 'make' their own chocolate cake). Also on the plate : an espresso granita, Marsala-spiked chocolate pastry cream, a lucscious chocolate mousse and a coffee flavoured mascarpone. The mascarpone incidentally, was my favourite component. It's not something I would usually bother making at home, though I've made it often at work (usually with double cream and citric acid, instead of single cream and lemon juice). Items that didn't make it to the plate : the savoiardi sponge and zabaglione (but I promise you that I did make both the first time round).
You can get the recipes for the components from the hosts' blogs. I'm providing the recipe for the chocolate mousse below.
Thank you Aparna and Deeba for the challenge! I loved the end result so much, I might be tweaking it a little and putting it on my menu soon 🙂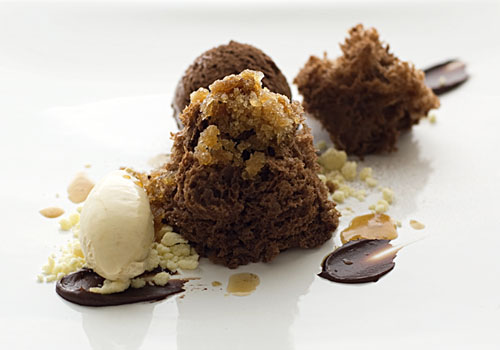 Chocolate Mousse :
(serves 10; based on a recipe from Wild Weed Pie by Janni Kyritsis)
300g semi-sweet (57%-cocoa) couverture chocolate, melted and kept lukewarm
2 eggs
5 egg yolks
3/4 cup white sugar
1/4 cup water
1 1/2 cups 35%-fat cream, whipped to soft peaks
Whisk eggs and yolks in the bowl of an electric mixer until pale. Meanwhile, combine the 3/4 cup sugar and water in a small saucepan, heat gently until all the sugar dissolves, then boil it until it reaches a temperature of 118'C. Slowly add this sugar syrup to the whisking egg mixture, drizzling it down the side of the bowl, then continue whisking until the egg mixture is cool. Fold in melted chocolate, then the cream. Chill for at least a few hours or overnight, to set.
Tags: chocolate, coffee, Daring Bakers, mascarpone, plated dessert, sponge