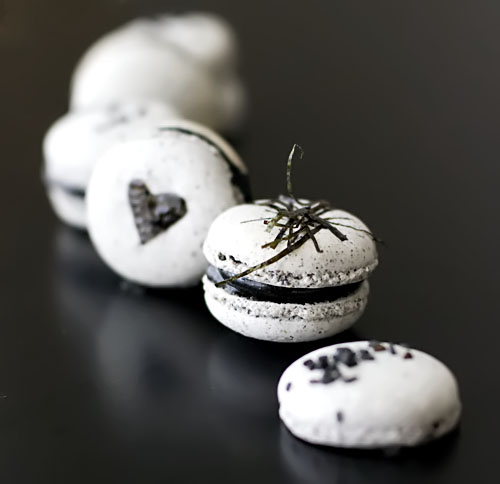 (Black sesame and nori macarons)
The 2009 October Daring Bakers' challenge was brought to us by Ami S. She chose macarons from Claudia Fleming's The Last Course: The Desserts of Gramercy Tavern as the challenge recipe.
Funnily enough, I've never been excessively interested in macarons. I appreciate their beauty and the degree of difficulty involved in their success. As many people have said before, it's amazing how complex a process it is to get right, considering macarons consist of merely three ingredients. So I have all the respect in the world for bakers out there such as Helen, Aran and Julia who love these sugary treats and manage time and again to present perfect and creative versions of them.
With regards to this month's challenge, I had every intention of attempting Claudia Fleming's recipe, but my brain was unfortunately asleep the day I stepped into the kitchen. It was only when half way through the process that I realised I had been baking on autopilot, and had somehow managed to whip up a batch of my normal macaron recipe, as opposed to the one provided for the challenge!
So I'm not sure if my contribution really counts towards this challenge, but here it is anyway. I made some bite-sized macarons flavoured with black sesame powder and paste, with dried seaweed (nori) garnishing the shells before baking. The combination worked well together, in my opinion, also because I quite like adding savoury elements to things that are quite sweet (as we all know macarons can be).
To keep things interesting, an impromptu dessert macaron was also cobbled together from items I scavenged from the fridge and pantry. Chocolate sauce, ganache, cake, cherries and vanilla cream formed a little nod to my obsession with Black Forest flavours.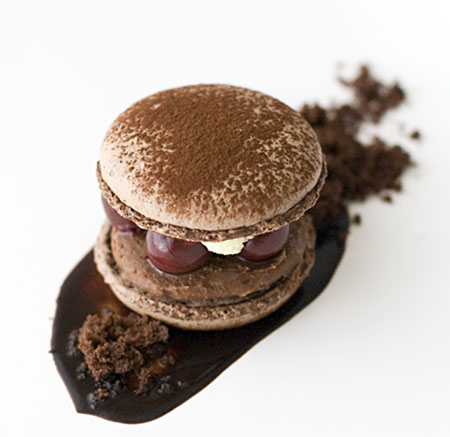 (Black Forest macaron)
Thank you Ami, for bringing macarons into the Daring Bakers repertoire!
Tags: black sesame, cherry, chocolate, Daring Bakers, macaron, nori, petit fours, plated dessert