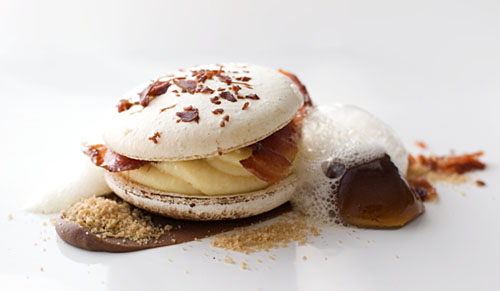 (French Toast Macaron : Smokey bacon custard, with maple-glazed bacon, maple jelly and air)
I'm a couple of days late in celebrating Caitlin's birthday, but I think she might manage to forgive me this one time, because she has already been waiting several months for me to make her a macaron dedicated to her blog, Engineer Baker.
In case I haven't mentioned before, Engineer Baker is one of my favourite blogs. Caitlin writes with such down to earth humour and such enthusiasm for her love of baking that I feel as though I can relate to her on so many levels. Not just because I studied one year of engineering at University, I bake, run, and like her, am more than competent in the field of procrastination (case in point, the fact that this macaron has taken so long to come to fruition).
A blog-inspired macaron stemmed from an idea I had awhile back which I never really pursued in it's entirety. However, I couldn't say no when Caitlin requested one. The only problem was, figuring out what kind of macaron would suit her blog.
If there's one thing you might notice about Caitlin's blog is that she bakes a lot of bread. So I thought a bread flavoured macaron would be the way to go. Running with the theme of 'french toast', I substituted some of the almond meal for dry breadcrumbs, which didn't seem to affect the macaron too much. The end result was a little heavier so the feet weren't as apparent, but there was still an overall lightness to it, with a bready texture within. I paired the macaron with some typical french toast accompaniments – flavours of bacon, eggy custard and maple syrup, as well as some caramelised toast crumbs and a little chocolate.
This macaron is gutsy and very rich, and as a macaron for the Engineer Baker, it may not be structurally sound, but it's certifiably delicious!
Happy belated Birthday, Caitlin! 🙂
Tags: bacon, custard, macaron, maple syrup, plated dessert