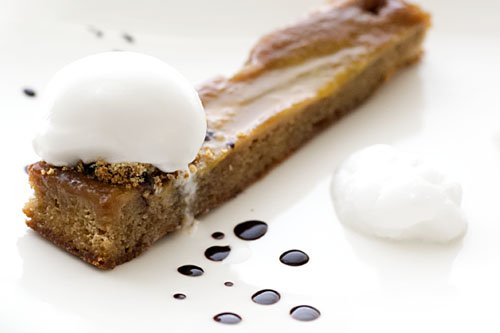 (Banana, piloncillo and buckwheat cake, coconut lime sorbet)
I have a new little helper at work. She has been struggling a little bit, since she is relatively new to this kind of job. As a consequence, I have been putting in extra hours and trying to be more patient. Over time, I hope the patience pays off and that she is able to step up and exceed expectations. With a team consisting of just two people, there is no where to hide and no one to hide behind.
Since I've been observing her for the past couple of weeks, I have started to reminisce about what it was like for me when I started out. It hasn't been a very long travelled road of manning pots and pans or whipping egg whites, because I started cooking later than most. Armed with just a desire to learn how to cook, and knowing nothing at all about the industry, I remember rocking up to my first kitchen trial without any knives or uniform. Pretty naive of me, now that I think about it.
Shuna of Eggbeater has written more comprehensively about such things before. However, it still got me thinking about the things I had learned/realised (mostly in retrospect) along the way.
First and foremost (and as cliched as it sounds), you have to really want the job. I remember the head chef saying just that to me during the interview for my previous job. I also remember thinking at the time, what a ridiculous statement. Of course I want the job! I'm applying to work with one of the most amazing pastry chefs in the country. What's not to want?
That last job was one of the hardest and best experiences of my life. Every day for the first month or two, I wanted to give up. I saw more people come and go than I could remember faces and names. Some packed up and disappeared in the middle of a busy service. Others just didn't turn up one day. A few were courteous enough to give notice.
Once I just faced facts and accepted that it's going to be hard, I kept my head down and worked as hard as I could. Tears might happen and defeat might appear imminent, but know that it is worth it, if you stick with it. Some of the most talented chefs I know are a little cocky and arrogant. A little self confidence helps when you are captain of a big ship, but when you're starting out with a new crew, you have to be prepared to swallow your pride a little.
You should be the first one in and the last one out. Do more than is expected of you. Ask questions, but know when the right time is to ask them. Invest as much time in the place as the place is investing in you. If you contribute enough, you will find that people around you are more willing to share their knowledge. In a busy kitchen, no one has time for you unless you are useful to them. In a busy kitchen, you are either going to be chewed up and spat out, or you will gain an experience you will treasure for the rest of your life. The outcome, is up to you.
But, you really have to want it.
(Recipe to follow)
Tags: banana, buckwheat, cake, coconut, plated dessert, sorbet