(Encapsulated tarte tatin with Calvados custard and vanilla bubbles)
The September 2009 Daring Bakers' challenge was hosted by Steph of A Whisk and a Spoon. She chose the French treat, Vols-au-Vent based on the Puff Pastry recipe by Michel Richard from the cookbook Baking With Julia by Dorie Greenspan.
Until now, I've never bothered to make puff pastry at home. I am a commitment-phobe when it comes to long processes. If I'm baking at home, I usually like the simple things – a handful of cookies, and the odd cake; maybe with some icing, or maybe not.
Not to make it sound too daunting of course. Baking puff can be quite a rewarding experience. Watching it bake is as mesmerising as the hypnotic tumbling of a front-end loading washing machine (or am I just too easily amused?). It is a performance piece which you put into the oven, draw back the kitchen towel curtains and watch rise to applause.
Even though it took me almost a month to finally start this challenge, the process itself only took a few hours. During that time, I mulled over what I would fill my end product with. When I saw this, the indecision was immediately over. An encapsulated tarte tatin? Yes please!
For the puff pastry recipe, please visit Steph's blog. For the encapsulated tarte tatin, fill the vols-au-vent with caramelised apples and calvados custard. Top each one with a caramel disc, warming it gently to ensure it melds to the pastry. Serve with a vanilla sauce poured at the table.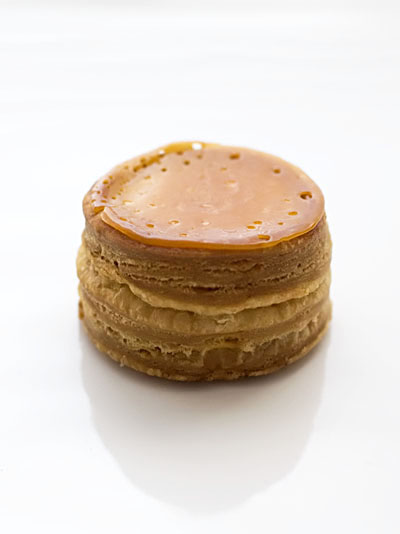 Tags: apple, cinnamon, Daring Bakers, pastry, plated dessert, vanilla