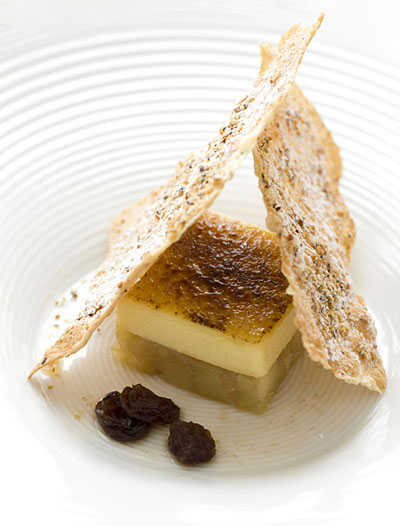 (Reinterpreting the strudel, with warm cinnamon apple and vanilla custard)
The May Daring Bakers' challenge was hosted by Linda of make life sweeter! and Courtney of Coco Cooks. They chose Apple Strudel from the recipe book Kaffeehaus: Exquisite Desserts from the Classic Cafés of Vienna, Budapest and Prague by Rick Rodgers.
I have strange obsessions with certain words, and strudel is one of them. It's an almost comical word that sounds like it was conceived by a stroppy noodle. Strudel = stroppy noodle = a thin man with a sharp chin, angry skin and raisin eyes. But the word also conjures up romantic images in my mind of sepia-toned cafes in Vienna that I will one day visit. To visit, and have a wedge of sachertorte or apfelstrudel, washed down with delicate porcelain cups of tea. Afterwards, a quick word to the waistcoated waiter for Die Rechnung, bitte, followed by a stroll down snow-covered cobbled streets.
In the lesser rose-tinted corner, strudel also reminds me of the word patience, of which I have none. I recall making strudel pastry several years ago, and watching in dismay as little holes in my pastry bloomed into massive ones. The rips ran just like stockings do, and there was no equivalent little dab of nail polish that was going to solve this problem. The holes were even big enough for a camel to walk through. In fact, not only did a camel walk through one of them, but he even turned back and looked at me disdainfully.
So, I approached this month's challenge with some apprehensiveness. Fortunately it also occured to me that I could reinterpret the strudel-eating experience to make life easier for myself. The result is an apple compote with a warm caramelised vanilla custard, hidden beneath shards of strudel pastry, and a few rum soaked raisins on the side. I stretched the pastry in small batches, so there was less tearing. The pastry was brushed with butter and dusted with icing sugar, cinnamon, and chopped walnuts, before being baked in the oven until crisp.
The warm vanilla custard recipe comes from Crème Brûlée by Dominique and Cindy Duby. In this unusual recipe, the custard is set with the help of gelatine and agar and is capable of being cut, then heated in the oven until warm, before being bruleed. The overall effect, as the fork comes crashing down on the strudel layer to reveal warm, nutty, spicy, apple and vanilla flavours, mimics the strudel experience. It also tastes just like a normal strudel.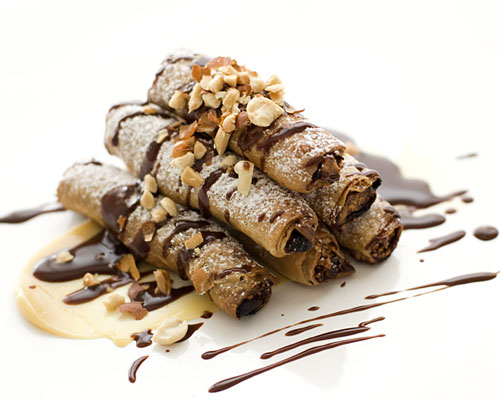 (Mini banana strudels with caramel, chocolate sauce and peanuts)
In case my version of strudel above didn't count, I also made some mini banana strudels, following Claudia Fleming's recipe in The Last Course. After stretching the pastry, I divided it into small squares, and proceeded with the recipe given below, forming little banana parcels. Still warm from the oven, these parcels were delicious with caramel and chocolate sauce and a sprinkling of chopped peanuts.
Strudel dough :
(from "Kaffeehaus – Exquisite Desserts from the Classic Cafés of Vienna, Budapest and Prague" by Rick Rodgers)
200 g unbleached flour
1/8 teaspoon salt
105 ml water, plus more if needed
30 ml vegetable oil, plus additional for coating the dough
1/2 teaspoon cider vinegar
1. Combine the flour and salt in a stand-mixer fitted with the paddle attachment. Mix the water, oil and vinegar in a measuring cup. Add the water/oil mixture to the flour with the mixer on low speed. You will get a soft dough. Make sure it is not too dry, add a little more water if necessary.
Take the dough out of the mixer. Change to the dough hook. Put the dough ball back in the mixer. Let the dough knead on medium until you get a soft dough ball with a somewhat rough surface.
2. Take the dough out of the mixer and continue kneading by hand on an unfloured work surface. Knead for about 2 minutes. Pick up the dough and throw it down hard onto your working surface occasionally. Shape the dough into a ball and transfer it to a plate. Oil the top of the dough ball lightly. Cover the ball tightly with plastic wrap. Allow to stand for 30-90 minutes (longer is better).
3. It would be best if you have a work area that you can walk around on all sides like a 36 inch (90 cm) round table or a work surface of 23 x 38 inches (60 x 100 cm). Cover your working area with table cloth, dust it with flour and rub it into the fabric. Put your dough ball in the middle and roll it out as much as you can. Pick the dough up by holding it by an edge. This way the weight of the dough and gravity can help stretching it as it hangs. Using the back of your hands to gently stretch and pull the dough. You can use your forearms to support it.
4. The dough will become too large to hold. Put it on your work surface. Leave the thicker edge of the dough to hang over the edge of the table. Place your hands underneath the dough and stretch and pull the dough thinner using the backs of your hands. Stretch and pull the dough until it's about 2 feet (60 cm) wide and 3 feet (90 cm) long, it will be tissue-thin by this time. Cut away the thick dough around the edges with scissors. The dough is now ready to be used.
Banana-Pecan Strudels :
(yields 4 servings, from The Last Course by Claudia Fleming)
2 sheets phyllo dough, thawed [I used strudel pastry as made above]
2 tablespoons unsalted butter, melted
4 tablespoons icing sugar [I added some cinnamon to this as well]
4 tablespoons chopped toasted pecans [I used peanuts]
1 medium-ripe banana, sliced lengthwise in quarters
1 tablespoon honey
Preheat the oven to 200'C. Brush 1 phyllo sheet with some of the melted butter. Sift 2 tablespoons of the icing sugar evenly on top. Sprinkle evenly with 2 tablespoons of the nuts. Cut the phyllo sheet in half lengthwise. Place one quarter of the banana along a short edge of each phyllo half. Starting with the short end, tightly roll up the banana in the phyllo. When you get almost to the end, dab a little bit of honey along the edge to help seal the package [Note : This is not necessary when using the freshly made strudel pastry]. Repeat with the remaining ingredients.
Just before baking, brush the tops of the strudels with more of the melted butter and place them seam-side down on a baking sheet (preferably lined with parchment paper or a nonstick liner). Bake until strudels are golden brown, 13 to 15 minutes. Serve immediately.
Tags: apple, banana, creme brulee, Daring Bakers, spices, vanilla