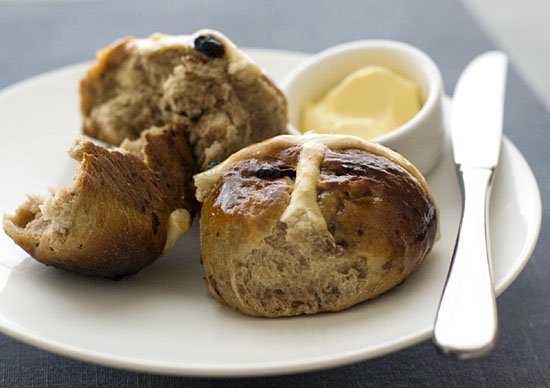 I told myself that this year was going to be the year I baked more from my bookmarks. So far, it's been a pretty successful resolution, though I have yet to make the chocolate wine (!) or lychee cake I've been eyeing for so long.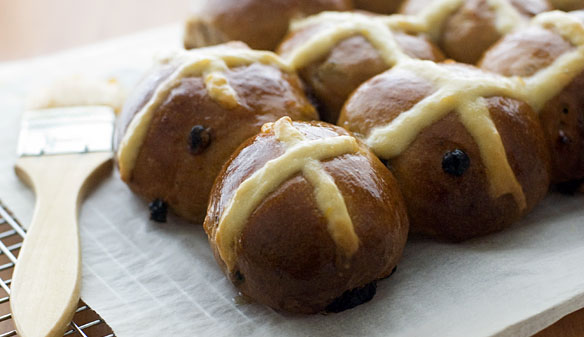 After making cookie versions of hot cross buns, I finally found some time to bake the real thing. Since I was in search of a new hot cross bun recipe to try, it was also the perfect opportunity to utilise my bookmarks. I made batches of two different recipes and was very happy with the results from both. B preferred the Baker & Spice recipe because theirs is pretty heavy in fruit and spice. Even though I am all about the fruit and spices in hot cross buns, there's something about Bron Marshall's recipe that makes me want to bake it again (maybe with a bit more fruit in it), so for me, hers wins by a whisker.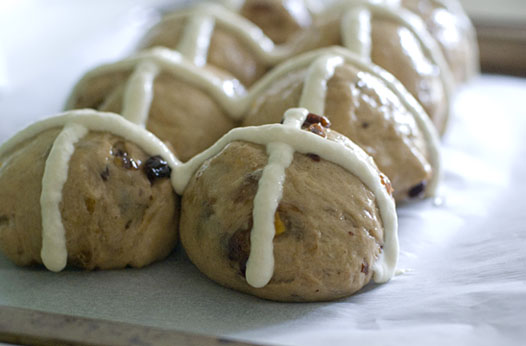 You can find the recipe for Bron Marshall's Hot Cross Buns here. However, if Easter buns don't float your boat, can I suggest something a little different. Something also from my bookmark folder, which is as much about brown sugar and spice (and everything nice) as the buns above.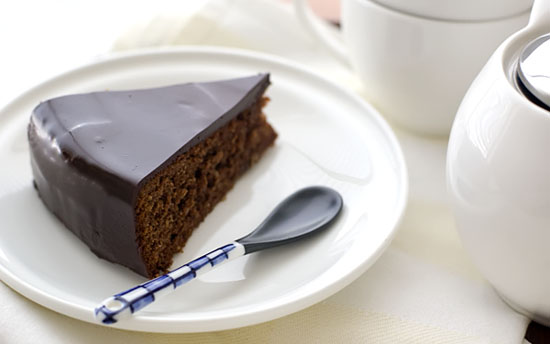 This lovely cakey version of Lebkuchen comes from Pastry Studio. The original recipe is here, but I'm including my version of the recipe because I made a few changes based on what I had in my kitchen, and also weighed everything so that I would have a record of this recipe metric form for future reference. (Yes, I will be making it again!)
Lebkuchen Cake :
(serves 8; from Pastry Studio)
165g plain flour
45g hazelnuts
45g almonds
1 teaspoon baking powder
1/4 teaspoon baking soda
1/4 teaspoon salt
2 tablespoons cocoa
1 1/4 teaspoons cinnamon
1/2 teaspoon ginger
1/4 teaspoon cloves
1/4 teaspoon nutmeg
1/4 teaspoon cardamom
170g unsalted butter @ room temperature
165g brown sugar
2 eggs @ room temperature
2 tablespoon honey
1 tablespoon cognac or brandy [I used Kahlua]
1 1/2 teaspoons candied orange peel, very finely chopped
1 teaspoon candied lemon peel, very finely chopped [I didn't have candied peel handy, so I used 2 teaspoons candied ginger and 1 teaspoon fresh lemon zest]
Chocolate Glaze :
170g bittersweet chocolate [70% Lindt]
230g thickened cream (35% fat)
1 tablespoon honey
Preheat the oven to 176'C. Brush an 8-inch cake pan with butter and line the bottom with a parchment round. Butter the parchment and dust the bottom and sides with flour.
Place the flour, almonds, hazelnuts, baking powder, baking soda, salt and spices in a food processor. Process a couple of minutes until the nuts are very finely ground into the flour. Pour into a bowl.
Beat the butter until smooth. Add the sugar and cream the mixture on medium speed until pale, light and very fluffy, about 4 to 5 minutes. Add eggs one at a time, mixing thoroughly before adding the next and scraping down the bowl after each addition. Add the honey, cognac, orange and lemon peel. Using a large rubber spatula, fold in the nut flour by hand in three batches, mixing just enough to moisten and blend. The batter will be quite thick. Scrape into the prepared cake pan and smooth out the top.
Bake in the center of the oven for about 26 – 28 minutes or until a toothpick comes out clean. Cool on a wire rack for 10 minutes. Run a thin blade knife around the cake to loosen and invert. Flip the cake back over to right side up and cool completely.
To glaze the cake, place the cooled cake on a an 8″ cardboard round or removable tart pan bottom. Return the cake to the cooling rack and place over a baking sheet lined with parchment.
Chop the chocolate into very small pieces and place in a medium bowl.
Bring cream and honey or corn syrup to a boil, stirring to dissolve. Pour over chocolate and let stand a couple of minutes. Whisk slowly and gently starting in the middle and then working outward in concentric circles until completely combined.
Glaze the cake, pouring quickly in the center and around the edges. Tap the baking sheet on the work surface to encourage the glaze to run down the sides if necessary. Just as it begins to dry, run a small spatula around the underside of the cake to smooth the bottom edge and prevent "feet" from forming. Let glaze dry before serving.
---
(PS: If you are an Australian foodblogger, you might be interested in signing up for the Australian Foodbloggers Group that Reemski has started. Her goal is to create an Australian version of the International Foodbloggers Conference currently being held in Seattle. I have signed up in support, and also think it is a great way to get to know more about the Australian food blogs and bloggers out there that I have yet to stumble across.)