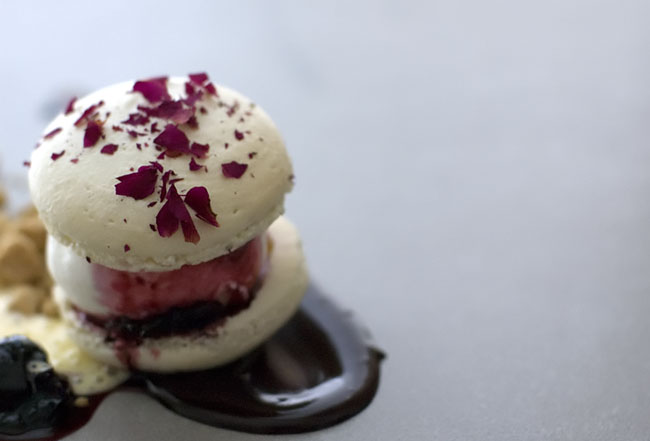 Happy 2009 to everyone! Christmas 2008 zoomed by too quickly for me, but that's okay, because I'm looking forward to the start of a new year, which hopefully will shape up to be as wonderful and memorable as a fine glass of wine.
I trust everyone had a great Christmas? At our family dinner, we had a fabulous organic ham with an apricot and orange glaze, turkey stuffed with wild rice and cranberries, as well as oysters, prawns, marinated vegetables, and dessert, which is my one responsibility every Christmas.
While this might sound like a pretty straightforward task to most people, I always accidentally make it difficult on myself by eschewing the safe option of making things I'm familiar with, for things that strike me at the spur of the moment. This year, we had sour cherries with white chocolate cream, followed by Christmas pudding ice-cream macarons and boozy brandy custard – both of which I think were better received than that one year I served poached peaches with a mint granita that tasted like toothpaste. Or the other time I tried to add a bit of theatrics to the end of the meal by releasing a shower of dried rose petals over everyone (it was meant to complement the dessert, honest). This was inspired by a story DP once told, of when he hosted a banquet and threw handfuls of walnuts across the length of the table, for his guests to pick, crack and eat as they pleased.
With some ingredients I still had around the next day, I thought it was time I finally made Christie of Fig & Cherry, a Cherry Ripe-inspired dessert. So here it is.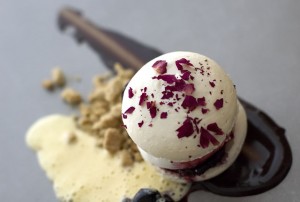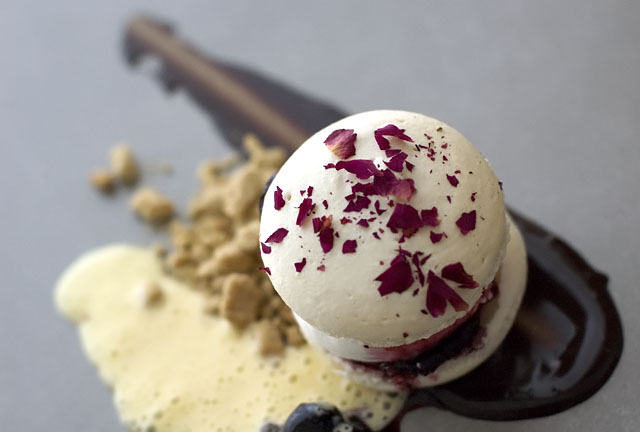 I call it, "To Christie, with love", and it comprises a bitter chocolate sauce, coconut sorbet, sour cherry compote, with chestnut crumble and custard.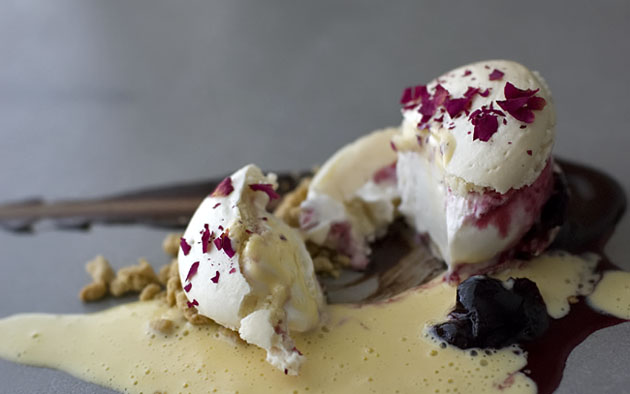 For those unfamiliar with the Cherry Ripe, it is an Australian chocolate bar consisting of a juicy cherry and coconut layer, enrobed in dark chocolate. It's Christie's favourite chocolate bar, and is second to the KitKat Chunky, as one of my favourites.
Now, before I hang up my macaron piping bag for at least a few months, there's just one last flavour I feel I have to do. A Bacon 'n' Egg macaron. Stay tuned.
Tags: cherry, chocolate, coconut, macaron, plated dessert