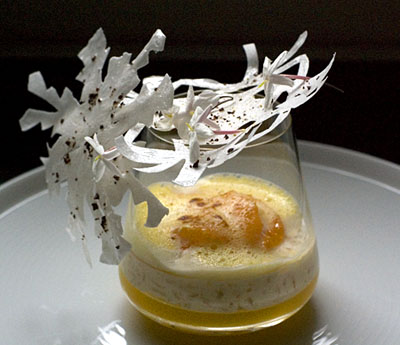 Oh the weather outside is frightful,
But the fire is so delightful,
And since we've no place to go,
Let It Snow! Let It Snow! Let It Snow!
— Sammy Cahn and Jules Styne.
It never snows where I live, but sometimes, it gets so cold that you almost feel as though wearing three layers and a scarf is not nearly enough. Winter sends some people into the doldrums. It's too cold to go to the beach, too rainy, it gets dark too early, and we certainly do miss all those glistening Summer berries and brightly coloured stonefruit. What Winter does have to is advantage however, are comforting fruits such as quinces, beautifully fragrant pears, and of course, versatile citrus fruits such as cumquats, lemons and mandarins.
When the chill sets in, I up my hot tea intake. Correspondingly, the pudding consumption meter soars too. Several nights ago, it was slices of spicy fruit cake. Yesterday evening, we had warm chocolate cake with ice-cream. Today, I've rediscovered the humble rice pudding. While the rest of the world is flaunting ruby red cherries, bunches of sweet grapes, plums, apricots and donut peaches, I'm all set over here to celebrate Winter, rather than commiserate on what I might be missing out on. I've got my fuzzy jumper, slipper socks, wool rug, a big pot of Marco Polo tea and my rice pudding. This one is flavoured with one of my favourite Winter fruits : Mandarins. Mandarins, made into a jelly with mandarin rice pudding, mandarin segments and rice snowflakes. The snowflakes are made by cutting rice paper into snowflake shapes, dousing them in sugar syrup and baking them in a low oven until crisp. The mandarin segments add a burst of freshness to the dish and are spiced with ras el hanout, which contributes a little bit of heat and delight to a cold Winter palate.
Ras el hanout is a special Middle Eastern/North African spice blend. It literally means "top of the shop" and signifies the best blend a spice shop has to offer. Every shop's blend is usually a secret combination of spices. You might already have your favourite recipe for ras el hanout, but I quite like this one by Janni Kyritsis, which is wonderful in savoury pies or even simply sprinkled over orange segments and eaten with honey and yogurt.
Ras el hanout :
(makes about 3 1/2 tablespoons; from Wild Weed Pie by Janni Kyritsis)
1 tablespoon green cardamom pods (3 teaspoons ground)
1 large cinnamon stick (3 teaspoons ground)
1 small nutmeg (1 1/2 teaspoons ground)
1 teaspoon cloves (3/4 teaspoon ground)
2 teaspoons white peppercorns (3 teaspoons ground)
2 teaspoons black peppercorns (3 teaspoons ground)
1 teaspoon ground cayenne pepper
Remove seeds from cardamom pods. Crumble cinnamon sticks. Chop nutmeg into small pieces. Combine all spices and grind using a mortar and pestle or a spice and coffee grinder. Pass through a fine sieve and regrind anything that's left behind. Store in an airtight container in a cool, dark cupboard.
Tags: mandarin, plated dessert, pudding, rice, spices