(Chocolate Covered Marshmallow Cookies)
The July Daring Bakers' challenge was hosted by Nicole at Sweet Tooth. She chose Chocolate Covered Marshmallow Cookies and Milan Cookies from pastry chef Gale Gand of the Food Network.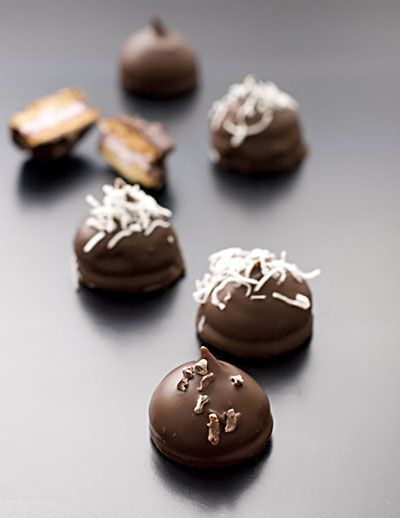 Avert your eyes now if the idea of a supersized chocolate covered marshmallow cookie cake, sounds like too much to digest. To explain, let me start at the very beginning. This month, I somehow managed (once again) to leave the DB challenge until the last minute, so I opted to make just the marshmallow cookies, as they were something I hadn't tried before.
Of course, my mind tends to wander, so while the cookie dough was chilling, I took a fancy to making Alice Medrich's peanut butter-chocolate torte. The recipe is easy enough, and gluten-free to boot. However, I didn't count on the cake cratering as it cooled. Despite the fact it looked wonderfully moist and possibly presentable with a simple dusting of icing sugar, I had a feeling the aesthetic police would not approve.
Since I was already in marshmallow-mode, it made perfect sense at the time, to convert the peanut butter torte into a peanut butter and jelly marshmallow torte! I slathered the raspberry flavoured marshmallow I had prepared on top of the torte and after it had set, covered the whole thing in the chocolate glaze recipe. A sprinkling of chopped peanuts for texture, some berry compote and a simple cocoa sauce to finish, and there you have it : my supersized DB challenge.
(Could I get at least one person telling me that it's not such a crazy idea.. please?)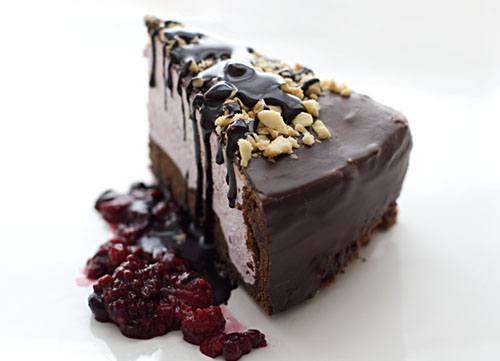 (Chocolate Covered Peanut Butter & Jelly Marshmallow Cake)
You can get the recipe for the marshmallow cookies from Nicole's blog.
Peanut Butter-Chocolate Torte :
(serves 12 – 14; recipe from Bittersweet by Alice Medrich)
113g bittersweet chocolate, coarsely chopped
1/2 cup sugar
2 tablespoons natural peanut butter
1/8 teaspoon salt
90g unsalted butter, cut into chunks, slightly softened
4 cold large eggs
1 tablespoon bourbon or other whiskey
1 teaspoon pure vanilla extract
Position a rack in the lower third of the oven and preheat the oven to 175'C. Line the bottom of 8 x 3 inch round springform pan with baking paper.
Place the chocolate in a large heatproof bowl in a wide skillet of barely simmering water and stir occasionally until nearly melted. Remove from the heat and stir until melted and smooth.
Whisk the sugar, peanut butter, and salt into the chocolate. Add the butter and beat with an electric mixer at medium speed until smooth and creamy. Beat in the eggs one by one, followed by the bourbon and vanilla. Continue beating at high speed for 2 to 3 minutes, or until the batter is fluffy, lightened in colour, and the consistency of frosting.
Turn the batter into the prepared pan, spreading it level if necessary. Bake for 25 to 30 minutes, or until a toothpick inserted about 2 inches from the edge comes out clean but one inserted in the center comes out with moist crumbs clinging to it. Set the pan on a rack to cool.
Serving suggestion : Sift icing sugar over the top of the cake and serve each slice with strawberry sauce.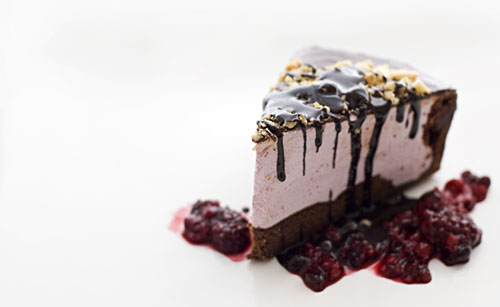 Tags: cake, chocolate, cookies, Daring Bakers, marshmallow, peanut butter