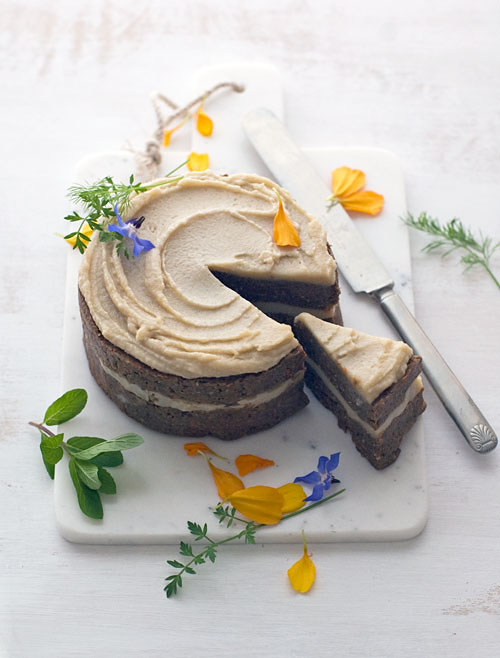 (Raw and Vegan Carrot Cake)
Nobody panic, I haven't actually turned my baking blog into the polar opposite of everything that has been posted here for the past couple of years. Well, not permanently anyway.
My initial foray into raw sweets occurred some time ago, and involved blitzing a mere handful of ingredients together to form raw brownie bites. First thought? "Holy crap, brownies in 5 minutes or under!" (They were delicious, and I'd link to the recipe here, but unfortunately the blog doesn't seem to exist anymore).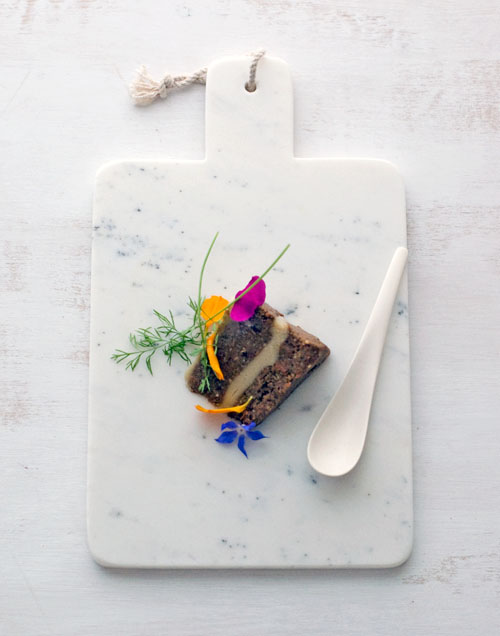 Then I learned about coconut oil, and sadly discovered that I didn't really like it all that much (but thankfully not quite in the same way as when coriander tastes like death and soap to some people). That put me off delving further into the wider world of raw desserts. Meanwhile, life went on. I pretty much spent the past year baking 8 hours a day as part of my job. Now that I'm free again, and still feeling excited about trying new things (or maybe hayfever season is muddling my brain), it seems the perfect time to test out a few raw, vegan sweet recipes. Along the way, I managed to pick up a few tips :
-Firstly, you really need a high powered blender to ensure the smoothest, creamiest end result, otherwise the overall texture of your frostings or caramel will be slightly off kilter.
-Many recipes rely on coconut oil, and it often ends up being the dominant flavour in the dessert. Use the best oil you can get, because it will definitely matter.
-As is the case with coconut oil, use the best vanilla extract you can get.
-Lastly, dessert is still dessert, regardless of whether it's raw/vegan or not. Eat in moderation, but enjoy every bite! 🙂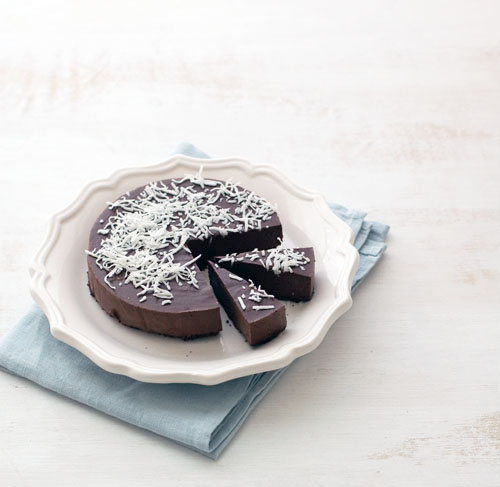 (Raw and Vegan Chocolate Ganache Cake)
(Raw and Vegan Caramel Slice)
Raw, Vegan and Gluten-Free Caramel Slice :
(this recipe is for a 3.5″ x 7.5″ frame and yields 8 thin slices; adjust quantities to suit your baking tin)
For the base layer :
25g pitted dates
110g whole unblanched almonds
pinch of sea salt
Blend all three ingredients together until the mixture looks 'wet'. Press mixture into the base of a lined 3.5″ x 7.5″ frame. Leave in freezer while you make the caramel layer.
For the caramel layer :
65g cashew butter
70g tahini
165g maple syrup
55g melted coconut oil
10g vanilla extract
pinch of sea salt
Blend all the ingredients together until smooth. Pour on top of the base layer and freeze until firm. 30-60 minutes.
For the chocolate layer :
15g raw cocoa powder
25g maple syrup
35g melted coconut oil
5g vanilla extract
Stir all the ingredients together in a bowl until smooth. Pour over the caramel layer and freeze until firm.
When ready to serve, unmould the caramel slice and cut with a hot knife. Decorate each slice with a few flakes of sea salt and some cocoa nibs. Any leftovers can be stored covered, in the fridge.
Tags: almonds, cashew nut, chocolate, dessert, gluten free, low sugar, raw, recipe, vegan