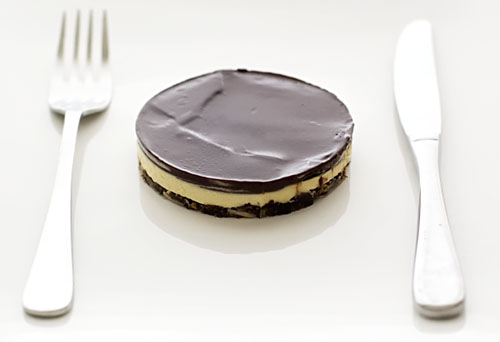 (Nanaimo Bar)
I wish there was an amusing story I could tell that related to these Nanaimo bars. The fact is, everything went really smoothly when I made them and because I had some time off from work, I even managed to complete the task a few weeks ago (instead of last-minute, as is my more typical modus operandi).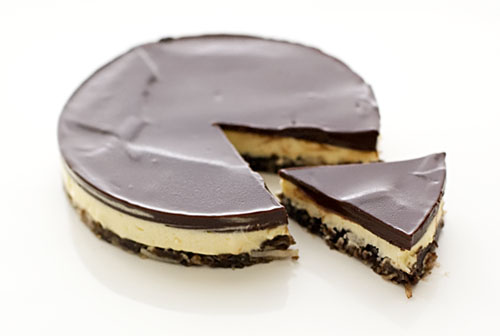 Some months I have a sort of love-hate relationship happening with Daring Bakers challenges and there have been many times where I've contemplated relinquishing my membership, what with the demands of work and life stretching me both time and energy-wise.
It is both a negative and positive fact that I also sometimes find myself faced with recipes I wouldn't normally contemplate making. Some people consider this A Good Thing and I'm one of these people. I don't mind being taken out of my comfort zone and can honestly say that with every challenge so far, I've learned something new.
Besides, did I mention that I also love baking? I relish the opportunity to discuss ingredients and techniques with like-minded enthusiasts and love any excuse to scurry into the kitchen to make something I can later share with friends.
At some point however, I know I'll have to face reality and accept that I'm not managing my time smartly. At some point, I'll have to make the 'sensible' decision.
But right now, I'm having too much fun and don't think I'm quite ready to give it up yet.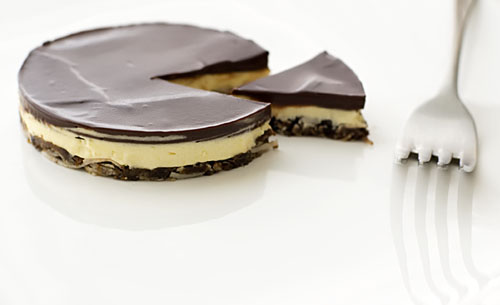 The January 2010 Daring Bakers' challenge was hosted by Lauren of Celiac Teen. Lauren chose Gluten-Free Graham Wafers and Nanaimo Bars as the challenge for the month. The sources she based her recipe on are 101 Cookbooks and www.nanaimo.ca.
For Gluten-Free Graham Wafers
Ingredients
138g sweet rice flour/glutinous rice flour
100g tapioca starch/flour
65g sorghum flour (or brown rice flour)
200g dark brown sugar, lightly packed
1 teaspoon baking soda
3/4 teaspoon kosher salt
100g unsalted butter (cut into 1-inch cubes and frozen)
80ml honey, mild-flavoured
75 ml whole milk
2 tablespoons (30 mL) pure vanilla extract
Directions:
1. In the bowl of a food processor fitted with a steel blade, combine the flours, brown sugar, baking soda, and salt. Pulse on low to incorporate. Add the butter and pulse on and off, until the mixture is the consistency of a coarse meal.
2. In a small bowl or liquid measuring cup, whisk together the honey, milk and vanilla. Add to the flour mixture until the dough barely comes together. It will be very soft and sticky.
3. Turn the dough onto a surface well-floured with sweet rice flour and pat the dough into a rectangle about 1 inch thick. Wrap in plastic and chill until firm, about 2 hours, or overnight.
4. Divide the dough in half and return one half to the refrigerator. Sift an even layer of sweet rice flour onto the work surface and roll the dough into a long rectangle, about 1/8 inch thick. The dough will be quite sticky, so flour as necessary. Cut into 4 by 4 inch squares. Gather the scraps together and set aside. Place wafers on one or two parchment-lined baking sheets. Chill until firm, about 30 to 45 minutes. Repeat with the second batch of dough.
5. Adjust the rack to the upper and lower positions and preheat oven to 180'C.
6. Gather the scraps together into a ball, chill until firm, and reroll. Dust the surface with more sweet rice flour and roll out the dough to get a couple more wafers.
7. Prick the wafers with toothpick or fork, not all the way through, in two or more rows.
8. Bake for 25 minutes, until browned and slightly firm to the touch, rotating sheets halfway through to ensure even baking.
9. When cooled completely, place enough wafers in food processor to make 1 ¼ cups of crumbs.
Nanaimo Bars
Ingredients:
For Nanaimo Bars — Bottom Layer
115g unsalted butter
50g granulated sugar
5 tablespoons unsweetened cocoa
1 large egg, beaten
1 1/4 cups gluten free graham wafer crumbs (See previous recipe)
55g almonds, finely chopped
130g shredded coconut
For Nanaimo Bars — Middle Layer
115g unsalted butter
40ml heavy cream
2 tablespoons vanilla custard powder
254g icing sugar
For Nanaimo Bars — Top Layer
115g semi-sweet chocolate
28g unsalted butter
Directions:
1. For bottom Layer: Melt unsalted butter, sugar and cocoa in top of a double boiler. Add egg and stir to cook and thicken. Remove from heat. Stir in crumbs, nuts and coconut. Press firmly into an ungreased 8 by 8 inch pan.
2. For Middle Layer: Cream butter, cream, custard powder, and icing sugar together well. Beat until light in colour. Spread over bottom layer.
3. For Top Layer: Melt chocolate and unsalted butter over low heat. Cool. Once cool, pour over middle layer and chill.
Tags: chocolate, coconut, Daring Bakers, gluten free, graham crackers