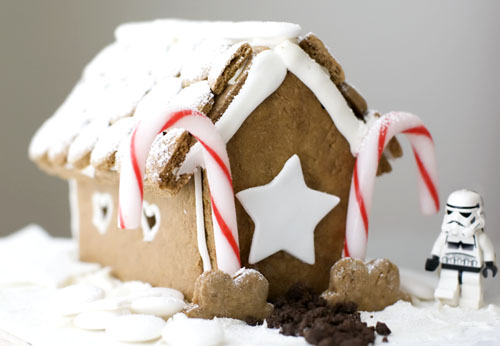 (Steve the StormTrooper comes home for the Christmas holidays)
The December 2009 Daring Bakers' challenge was brought to you by Anna of Very Small Anna and Y of Lemonpi. They chose to challenge Daring Bakers' everywhere to bake and assemble a gingerbread house from scratch. They chose recipes from Good Housekeeping and from The Great Scandinavian Baking Book as the challenge recipes.
After seeing quite a few amazing DB gingerbread houses recently, I've come to the conclusion that mine actually looks rather spare. Lucky I had Steve the Stormtrooper to pimp my house a little. Darth would've joined the party too, but he happened to be overseas at the time (true story).
When Anna first told me what she had picked for this month's challenge, I thought I could approach it in one of two ways – either go the whole hog and decorate it with every single bit of candy possible, or play the minimalist card, and make it plain and simple. Plain and simple won.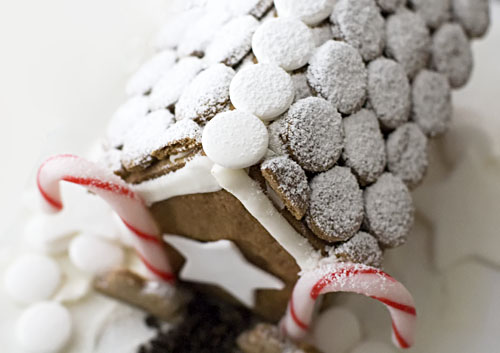 This is my second time ever, attempting a gingerbread house. The first was a good many years ago when royal icing was not my friend, and a collapsed house led me to swear off ever making them again. (Hence the beauty of being a member of the DB group, where challenges can often take you outside of your comfort zone.)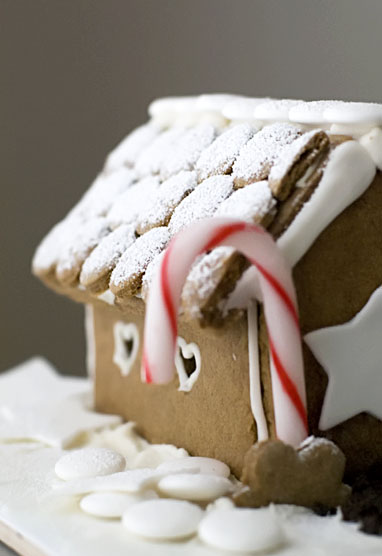 As stated in the forums, I chose to use a Scandinavian recipe from a book I love by Beatrice Ojakangas. Although her recipe for the dough isn't very sweet and lacks the moisture of typical gingerbread recipes, I believe it's a good recipe for this sort of thing where sturdiness is important, and less sweetness means you don't overdose on sugar once you consume the gingerbread combined with the royal icing and candy decorations. I did however confuse quite a few people with my conversions for the flour content of the recipe, and for that I truly apologise!
Still I hope everyone managed to have as much fun as possible while attempting this challenge, and thank you again Anna, for allowing me to be your co-host. 🙂
Merry Christmas and a very Happy New Year everyone!
(Gingerbread panels, ready for assemblage. All the stray bits you see, got assembled straight into my mouth!)
Tags: cinnamon, Daring Bakers, gingerbread