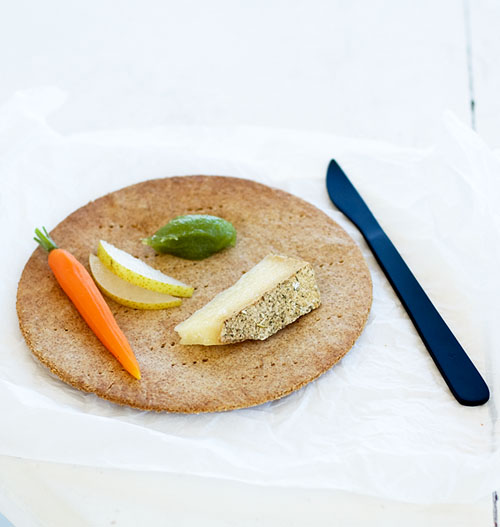 (Pecorino Stagionato sotto fieno e miele and accompaniments)
Following on from the bread we baked for the banquet, our next responsibility was the cheese course.
This is a cheese course that almost didn't happen. It was beset with dramas from the very beginning, which meant we had to restart our planning several times over. The initial idea was to serve a 'red vein cheese', a wine streaked version of a blue-vein cheese, and a quirky nod to the theme of "Blood, Bones & Butter" that was chosen in homage to Gabrielle Hamilton. This was nixed when they decided the chefs shouldn't take the theme too literally. Winding down many side streets and blind alleys later, we finally, with much expert navigation from Katrina Birchmeier of Garagistes, settled on this.
-A beautiful pecorino from Tuscany, aged with honey and hay.
-2010 Moriki Shuzo 'Suppin Rumiko no Sake'. An artisanal sake with hints of pear and brown sugar, made by a female brewer.
-Accompaniments selected to echo the flavours of the sake : malt barley and cumin candied carrots, an apple and shiso paste and paradise pears pickled in sake, rice vinegar and brown sugar (actual versions not pictured, because I'm writing this in retrospect). All served on a cracker plate flavoured with organic rice syrup.
Of course, the dramas didn't end there. Somehow in the process of transporting all our food from the prep kitchen to the dinner venue, two blocks of cheese got left on a sidewalk. When the error was discovered, I received a very 'calm duck above water but paddling frantically underneath' kind of phone call, which prompted me to race down escalators and run up and down the street in the middle of the city, shouting into my phone, "I'm in front of Prada! Is this where you parked? I can't see it! I can't see it!". $300 of misplaced cheese would do that to a person.
The cheese was eventually located and aside from the general deliciousness with regards to this course (my favourite), there's another positive to all of this. There may never be a definitive answer to the question of changing light bulbs, but I now know how many chefs it takes to lose a block of cheese.
Next, the dessert course.
Tags: cheese, cracker, edible plate, pecorino, Toys