Every time I travel to New Zealand, it feels as though I've fallen down the rabbit hole and ended up in a place that might not be physically that far away, yet seems worlds apart from my daily life. Paradise, perhaps? Last week, paradise was Wellington, at the southern tip of the North Island of New Zealand. A place where you're seemingly only one block away from good coffee, great food, and plenty of scenery to inhale.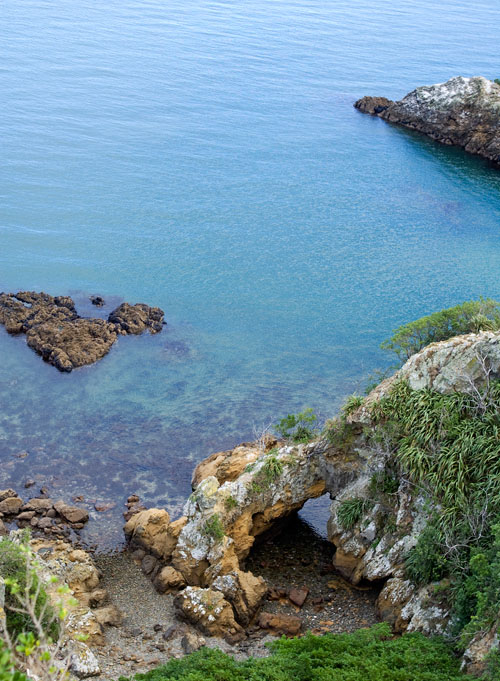 If you ever find yourself there, I would recommend a walk around the bay, or a trip to Somes Island, which is a mere 20 minutes away by boat. Or steel yourself with a breakfast burrito from Fidel's Cafe or Floriditas' eggs on toast before a hike up Mt. Wellington, then come back down in anticipation of dinner at Ortega Fish Shack. On Sundays, both the City Market and Harbourside Market are great places to visit for a self-styled breakfast degustation. If it's feijoa season, you can get the sweet, perfumed fruit at the markets for as little as $2/kg. And if it rains too much and you want to stay dry, the Wellington City Library has a collection of graphic novels that would rival most actual book stores. Which is exactly my idea of an indoor paradise.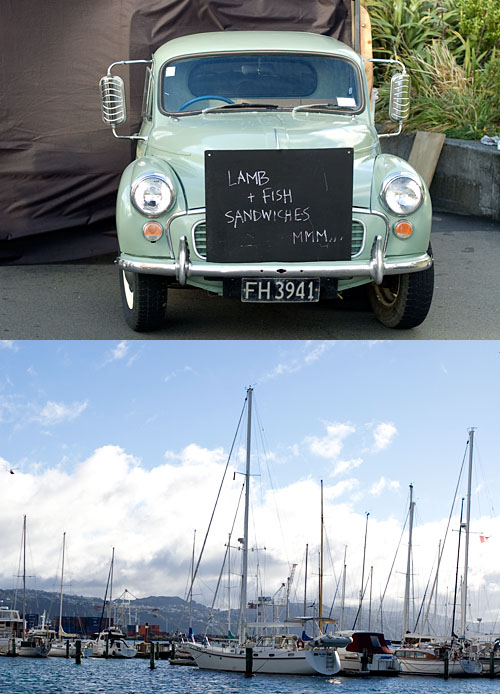 Now that we're back home and the weather has gotten a little cooler, I've started thinking about soups and braises for dinner. While we were away, I came across a recipe by Dean Brettschneider for sweet plaited scones which I'd planned to make over the weekend. Somehow that never eventuated and one evening, to accompany a hot bowl of roasted cauliflower soup, we had these savoury scone loaves instead.
The scone dough is quick to make, since it precludes the proving time required with yeasted loaves, and is easily adapted to include a range of fillings; both sweet and savoury. For our dinner, I made one with herb and cheese, and another with Branston pickle and cheese. Both were equally well received.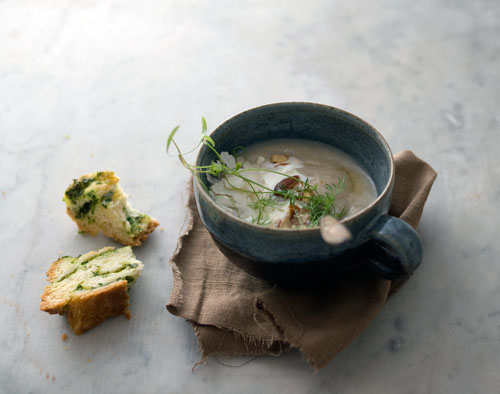 Plaited Scone Loaves :
(makes 2 small plaits; adapted from a recipe by Dean Brettschneider from Global Baker)
380g plain flour
pinch of sea salt
25g baking powder
60g soft unsalted butter
1 egg
190g milk
In a bowl, combine the flour, salt and baking powder. Rub the butter into the flour mixture, then add the egg and milk and gently combine to form a dough. Divide the dough in 2 portions.
Roll the first portion into a rectangle roughly 30cm long x 20cm wide, with the longest side facing you. Spread a thin layer of soft butter (1-2 tablespoons) over the dough then sprinkle your filling of choice over the dough, leaving a 1cm border all around. Roll the dough up tightly, pressing the ends together. Cut the roll in half, lengthways. With both cut sides facing upwards, intertwine the two strands of sliced dough to form a simple plait. It will look a little like this. Place the plait on a greased or lined baking tray. Repeat the above with the second portion of dough.
Preheat 175'C oven, then bake the plaits for 30 minutes or until golden brown.
Tags: cheese, herbs, New Zealand, quick bread, savoury, scone, Wellington