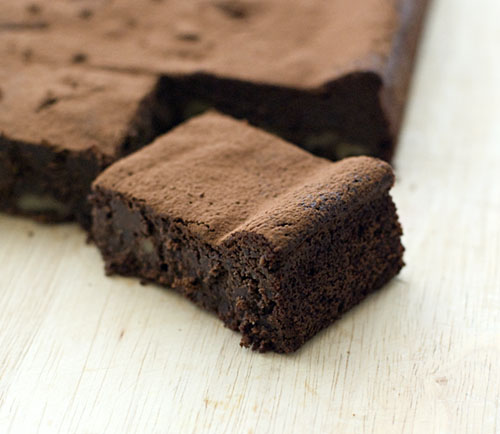 (Adzuki bean and black sesame brownie)
It was only when someone asked me recently, "What do you do exactly?" that I realised I don't blog in as much detail as I used to, about my work life. I work in a commercial kitchen in the city and like most typical kitchens, it is a predominantly male environment. Despite the multitude of personalities or the testosterone overload, it's one of the few times I've felt as though I'm in a place where everyone is truly bonding as a team; from the pointy end of the kitchen heirarchy, right down to the little fishes. Even the kitchenhands are happy people : one sings throughout the day and loves decorating his apron with vegetable art, and the other works two physically-demanding full time jobs but still has time to smile and have a laugh.
These days I'm finding it strange that my blog life is intersecting with real life. For the longest time, this blog was a little secret. A place I came to, to air woes. But since it appears that quite a few people I work with are aware of this blog, I thought I might as well introduce you to some of these characters from my kitchen life.
In no particular order :
Mike. You should see Mike dance to one of his favourite songs by Rick Astley. I swear, it's a YouTube moment waiting to happen. Mike is also allergic to cashews and hates coconut. Apparently last week, almost all the staff desserts I made had coconut in them. How did that happen??
Miles is capable of appearing to be 'miles away'; completely wasted without even needing drugs or alcohol. I attribute it to a combination of love-sickness, long work hours and vivid gangsta dreams related to his new-found addiction to The Wire. On a good day, Miles is capable of correctly counting the number of bread rolls he is required to warm in the oven.
Mitch is my Food Disposal Unit #1. He eats everything, and I do quite like that in a person.
Spud. We once both pulled the coolroom door open simultaneously while standing on opposing sides of the door. We stood there like stunned mullets for a second then burst into 5 minutes of uncontrollable laughter. I guess that pretty much sums up my relationship with Spud.
Terry. While I'm sure most guys would hate to be landed with the 'nice' tag, Terry is truly the nicest guy ever. He also looks like an attractive Abraham Lincoln and bakes from his grandmother's recipes.
Mark Anthony. Is always referred to as Mark Anthony. I can't remember why, but it seems to make sense.
Zach. Could almost be considered an honorary member of the pastry department because he's always there to help out whenever help is needed most.
Dan. Of course, I saved the best for last. Dan is a creative spirit. He encompasses all the qualities you would expect a great chef to possess. He leads with respect, and (knowledge being more powerful than fear), he is followed with respect. He can be tough, but also fair, and is one of the most interesting people I have ever met. Lesser known fact : he can also swing dance.
As a 'family', we eat well, and we work hard. There is no shouting and minimal swearing in this kitchen. In fact, I made a joke the other day about loving 'the new rack' in my section and was greeted by stunned silence.
Oh, I love this work place, yes I do.
Adzuki bean and black sesame brownie :
(I adapted these rich gluten-free brownies from Heidi's Black Bean Brownie recipe as seen on 101 Cookbooks.)
115g bittersweet chocolate (70% cocoa solids)
225g unsalted butter
310g cooked adzuki beans
60g black sesame meal/powder
100g walnuts, chopped
1 tablespoon vanilla extract
25g cocoa powder
1/4 teaspoon salt
4 large eggs
360g plain honey
Preheat the oven to 160'C. Grease and line a 7″ x 10″ baking tin and set it aside.
Place the chocolate and butter in a bowl over a pan of simmering water, stirring just until the chocolate has melted. In a food processor, combine the adzuki beans with the black sesame powder, vanilla and a couple of spoonfuls of the melted chocolate mixture. Blend until smooth, about 2 minutes.
In a large bowl, stir the walnuts with the remaining melted chocolate, along with the cocoa powder and salt.
In an electric mixer, whisk the eggs until light and creamy, then add the honey and whisk well.
Fold the bean mixture into the walnut/chocolate mixture, then fold in the egg mixture. Pour the batter into the prepared baking tin and bake for 30 to 40 minutes until set. Once baked, allow to cool on a wire rack before transferring to the fridge to chill well before cutting. These brownies are best served from the fridge as they are slightly crumbly, but assuredly very moist and delicious!
Tags: adzuki bean, black sesame, brownie, chocolate, gluten free