(Rose Bakery's Red Bean Slice)
Today my Optometrist asked me two questions that I inevitably get asked all the time :
1) Why did you decide to cook
and
2) What is your all-time favourite thing to cook
A few days before, I had what I would consider a pretty perfect kind of day. It was mostly spent with a good friend who I don't really see much of, ever since she pulled up stumps and moved overseas to work and live. Now that she is back briefly for a visit, we caught up over a movie, a piece of cake and a spot of Japanese grocery shopping, then inexplicably found ourselves motoring deeper into the city, towards more cake (though I somehow managed to not buy anything there). When we finally parted company, she left me with the latest issue of her craft zine, Sharp and Pointy.
(Pineapple Tarts)
Sharp and Pointy, it must be said, is like a tiny chocolate cake : a perfect sampling, that hints at just enough to leave you wanting more. In it, was a quote by Ivan Illich that has been reverberating in my head ever since I set eyes on it :
I believe a desirable future depends on our deliberately choosing a life of action over a life of consumption, of our engendering a lifestyle which will enable us to be spontaneous, independent, yet related to each other, rather than maintaining a lifestyle which only allows us to produce and consume.

–Tools for Conviviality by Ivan Illich.
That quote, my dear, is going straight to the poolroom, Kerrigan-style. Or rather, I want to have it laminated and strung around my neck so that I can always be reminded of it.
Which brings us back to the first question. I cook because I like to eat. My dad says that a common Asian greeting is to ask someone if they have eaten, as opposed to saying Hello. Being able to say you've had enough to eat, is considered very important, especially in Chinese culture. This could partly explain my obsession with food. The other part I think, has to do with my fractured childhood, and why I often look to things that have great nostalgic value. True to form, I still remember one of the first things I ever made, standing precariously on a wooden stool in order to reach the stove : flapjacks. Singed and overly crispy, yet strangely so tasty.
I also cook because I want to create and share. I am fearful of falling into the trap of needing to maintain a lifestyle (or a blog), or of becoming a "weapon of massive consumption", as Lily Allen would say. It worries me that I can't tell whether I'm succeeding or failing, because I have to consume to create, but I feel (and hope) the balance is tipped in favour of the former.
So please know, when you ask me this, that you're hearing from someone who wants nothing more than to be doing (cooking, blogging and living (with a fair share of perfect days)) something that retains an element of integrity, passion and creativity. She will never be the prettiest or the most popular, and god help her, her eyesight is pretty bad (or 'interesting' as the Optometrist puts it), but hopefully she is managing to live a relevant, uncalculated life, doing something she loves. When she finally disappears, may people not walk right through her, but allow her to own for a brief second that space she once quietly occupied.
As to the second question and a recipe for the pineapple tarts, I will leave that for another day.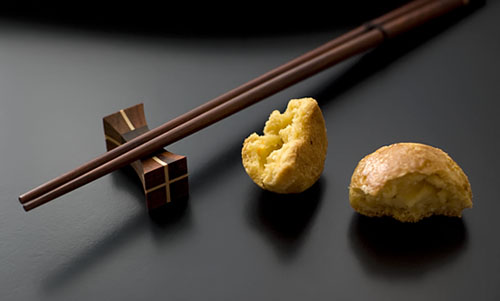 (Chamomile Custard Tart)
Red Bean Slices :
(makes 15-20 squares; from Breakfast, Lunch, Tea by Rose Carrarini)
200g adzuki beans, soaked overnight in 3 times their volume of water
180g caster sugar
2 tablespoons honey
1 teaspoon natural vanilla extract
150g unsalted butter, plus extra for greasing
100g plain flour
100g ground almonds
100g rice flour
pinch of salt
Darin the beans, put them into a saucepan, cover with fresh water and bring to the boil.
Drain them again, put them back in the saucepan with the same amount of fresh water, then turn the heat down and simmer the beans for about 1 1/2 hours till they are very soft. Keep adding water if they start to dry out and skim the surface carefully.
When the beans are completely soft, drain them and put them back in the saucepan.
Add 100g of the sugar, and the honey and vanilla extract. Stir over a low heat for about 5 minutes until the sugar has dissolved.
Put into a food processor and process till smooth, or put through a siece until the beans are paste-like in texture. Set aside to cool.
Preheat the oven to 180'C.
Butter a 20 x 28cm baking tin and line it with parchment paper.
If you are using a food processor, process the flour, ground almonds, rice flour, butter, the remaining sugar and the salt until the mixture is quite crumbly. Otherwise, cut the butter into small pieces, mix the dry ingredients together and rub the butter into them with your fingers. If the mixture is too dry, add a little more butter.
Press half the mixture into the prepared tin.
Spread the adzuki paste evenly over the top and sprinkle with the remaining flour-and-almond mixture (like a crumble). Bake for 25 – 30 minutes till the topping is golden and crisp.
Cool in the tin.
When cold, cut into squares. Take the slices out of the tin very carefully as the topping tends to crumble (because of the rice flour).
[Note : Rose says you can use tinned, ready-cooked adzuki beans instead of cooking your own (which is what I did, because I had some tinned beans to use up). It is also possible to convert this slice into a vegan recipe by replacing the butter with a vegan margarine and using golden syrup (or light corn syrup) instead of honey.]
Tags: adzuki bean, pineapple, tart