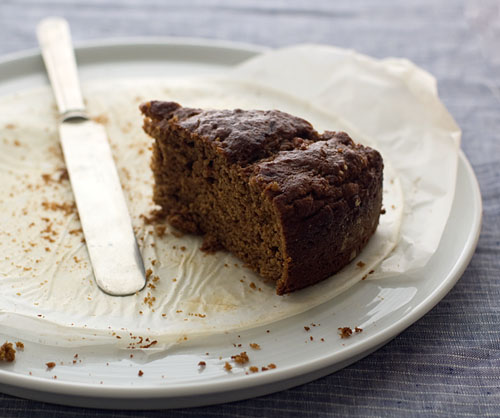 (Gingerbread cake)
There are many occasions in my baking life when I've pulled from the oven, a cake only a baker could love. It is usually something dull and unrelentingly brown all over. Something that makes me feel slightly crestfallen because only brownies and celebrities on private yachts are permitted to be this brown.
When faced with such a cake, it is hard to resist the temptation to add a bit of glamour to it. Enter three tiers of chocolate ganache and artfully scattered silver nonpareils or that classic dribble of lemon icing.
But in the case of this gingerbread, simple is beautiful and even the tiniest dusting of icing sugar over its dimpled crust should be rejected. For all those times when a cup of tea and nothing overly sugary is called for, this cake is just the ticket with its gentle warmth and spices that form a slow release flavour dance on your tongue.
Brown it seems, may just be the new black.
Gingerbread cake :
(based on a recipe from Good to the Grain by Kim Boyce)
1 1/4 cups wholemeal flour
1 cup plain flour
1 teaspoon baking powder
1 teaspoon baking soda
1 teaspoon sea salt
1 teaspoon nutmeg
1 teaspoon allspice
1 teaspoon freshly ground black pepper
1 teaspoon cinnamon
1 teaspoon espresso powder
1 teaspoon ground ginger
56g (2 ounces or 1/2 stick) unsalted butter, melted and cooled slightly
1 cup plain full-fat yogurt
3/4 cup brown sugar
1/2 cup unsweetened apple sauce (or pumpkin puree)
1/4 cup unsulphured blackstrap molasses (or treacle)
1 egg
2 tablespoons grated fresh ginger
Preheat the oven to 175'C (350F).
In a large bowl, combine all the dry ingredients, stirring gently with a whisk to ensure the spices are well mixed.
In a separate bowl, whisk together the melted butter, yogurt, brown sugar, apple sauce, molasses, egg and grated ginger. Add this to the dry ingredients and fold to combine. Pour the batter into a greased and lined 9-inch round cake pan. Bake for 45-50 minutes or until a skewer inserted into the center of the cake comes out clean.
Tags: cake, gingerbread, Kim Boyce, spices, teacake