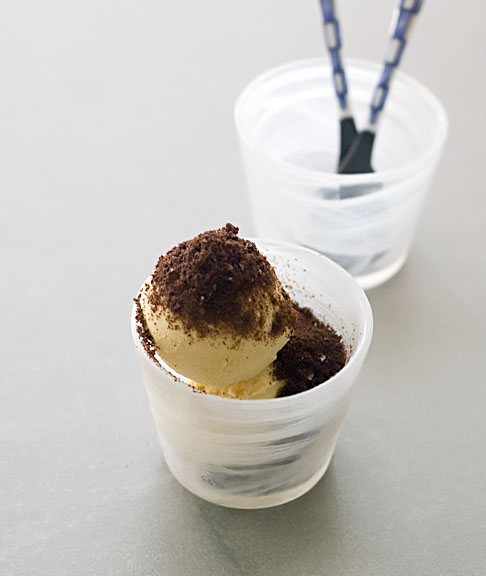 (Peanut butter parfait with brownie salt)
When going on holiday, I usually suffer from separation anxiety from the creature comforts I love in life. Occasionally I wonder why I even go on holiday at all, when the things I enjoy most, do not require travelling across continents for. My favourite cushion, a large mug of tea, peanut butter smeared on warm toast and watching movies with B on the sofa.
Mind you, I used to have to cross continents to spend time with B, and it was through these interludes every year that we got to know even more about each other. We both love horror movies. He likes eating the same thing for breakfast every day. I don't completely understand his obsession with potatoes. He dislikes peanut butter.
It is despite these flaws that we are still together, eyeing each other's breakfast with amusement each Sunday morning. Peanut butter to me, is what foie gras is to most other people, albeit packaged in a plastic jar and easily obtained at considerably less expense.
One Sunday morning several weeks ago I started day dreaming about a peanut butter and jelly sandwich-inspired dessert, involving a frozen peanut component and some chocolate brioche. I never got round to completing it, but at least I now have a parfait recipe to use as my starting point.
A chance encounter with some leftover brownies also had me wondering about what would happen if you took a brownie, compressed, froze, grated and dried it, then combined it with some flaky salt. Turns out, you get what I like to call, brownie salt.
Sometimes dessert components, like random words, fit together unexpectedly well to form a sentence. Some of these sentences develop further to become ground breaking novels or classics. Peanut butter parfait with brownie salt is not one of those sentences, but I hope it serves as a nice interlude while I set off for a few weeks on holiday 🙂
Peanut butter parfait :
(from The French Cafe Cookbook by Simon Wright)
200g caster sugar
40ml water
10 yolks
800ml cream
300g peanut butter
Combine sugar and water in a small saucepan, place over a high heat and boil until the sugar reaches 118'C. Meanwhile place egg yolks in an electric mixer and beat together at a high speed. Slowly add the sugar syrup in a steady stream and continue beating until the yolks have increased in volume and are thick in consistency. Place this mixture into a clean bowl. Wash out the mixing bowl and dry well, then add the cream and beat until the cream just starts to thicken. Add peanut butter and continue to beat until the cream is semi-whipped. Gently fold in the egg yolk mixture and pour into your mould. Allow to freeze overnight.
[Note: I like using an organic, natural peanut butter which doesn't contain any additives like sugar or salt.]
Tags: brownie, chocolate, parfait, peanut butter, sea salt