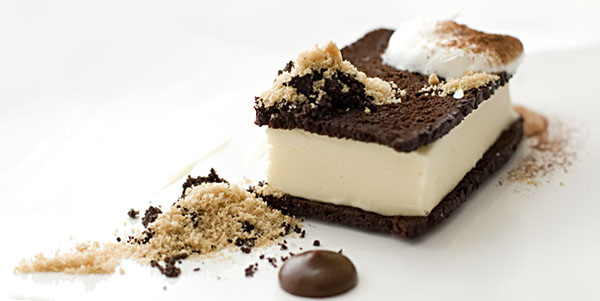 (Gingerbread ice-cream sandwich, espresso pudding, leatherwood milk)
My adorable five year old niece was once spotted demolishing the icing off a cupcake, leaving most of the cake behind. When it was pointed out to her by her disapproving mother, she exclaimed, "But I love cream!". Uttered in her small, high-pitched voice, we found this quote so priceless, that B and I have since adopted it as our catchphrase. So now when I admonish B about his butter : toast ratio, he replies in a mock squeaky tone, "But I love butter!"
As for the dessert above, it started out as a slab of Guinness stout ginger cake. The recipe is by Claudia Fleming and is an absolute stunner. Assisted by the Guinness and molasses, this cake is unbelievably moist and has great depth of flavour with the perfect amount of spice.
In the mood for something a little different, I dried slices of the cake in the oven until crisp and sandwiched them between vanilla ice-cream (because I love ice-cream sandwiches). The sandwich was paired with accents of dry caramel and chocolate, dollops of espresso pudding (a recipe from the Alinea cookbook) and a frothy leatherwood honey milk which tasted malty and earthy : just like the gingerbread. There was also a small amount of smoked orange syrup drizzled on the plate, though not quite visible from the pictures.
Guinness stout ginger cake? I love it, and think you will too!
Guinness Stout Ginger Cake :
(serves 8; recipe from The Last Course by Claudia Fleming)
1 cup Guinness stout
1 cup molasses
1/2 tablespoon baking soda
3 large eggs
1/2 cup caster sugar
1/2 cup firmly packed dark brown sugar
3/4 cup grapeseed or vegetable oil
2 cups plain flour
2 tablespoons ground ginger
1 1/2 teaspoons baking powder
3/4 teaspoon ground cinnamon
1/4 teaspoon ground cloves
1/4 teaspoon freshly grated nutmeg
1/8 teaspoon ground cardamom
1 tablespoon grated, peeled fresh gingerroot
Preheat the oven to 175'C. Butter a 9 x 5-inch loaf pan, line the bottom and sides with parchment, and grease the parchment. Alternatively, butter and flour a 6-cup Bundt pan.
In a large saucepan over high heat, combine the stout and molasses and bring to a boil. Turn off the heat and add the baking soda. Allow to sit until the foam dissipates.
Meanwhile, in a bowl, whisk together the eggs and both sugars. Whisk in the oil.
In a separate bowl, whisk together the flour, ground ginger, baking powder, cinnamon, cloves, nutmeg and cardamom.
Combine the stout mixture with the egg mixture, then whisk this liquid into the flour mixture, half at a time. Add the fresh ginger and stir to combine.
Pour the batter into the loaf pan and bake for 1 hour, or until the top springs back when gently pressed. Do not open the oven until the gingerbread is almost done or the center may fall slightly. Transfer to a wire rack to cool.
Tags: caramel, chocolate, espresso, gingerbread, ice-cream, leatherwood honey, plated dessert