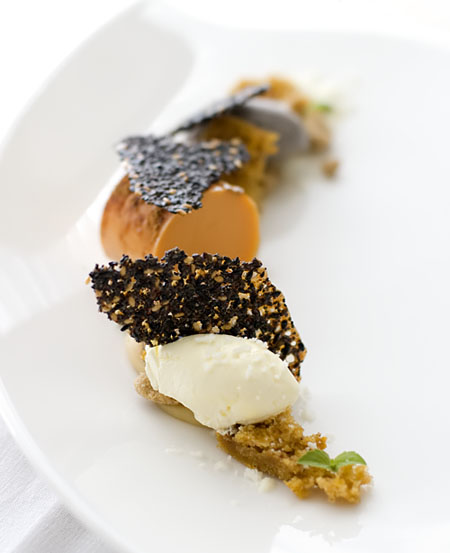 (Sweet potato 'pie' with black sesame)
I love Mr. Sweet Potato. He is especially dirt cheap at the moment, which enables me to pretend that I am living a budget lifestyle despite all the butter and chocolate that I buy.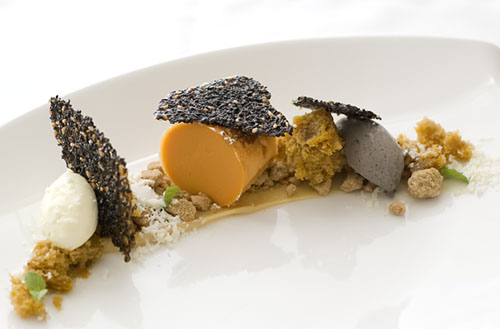 This dessert, sanctioned by Mr. Sweet Potato, started out as a budget piece of sweet potato cake. It got me thinking about sweet potato pie, which alas, I have never made or tasted. However I feel I know this particular pie's purpose or meaning, without having tasted it. Sweet potato is comfort food. As kids, we snacked on steamed slices of sweet potato and tapioca dipped in granulated sugar.
These days, some people happily pay a lot of money in restaurants to eat luxury examples of such comfort food. At best, it is playful and you smile when you feel that thrill of recognising something from your past. At it's most successful, it should also be so delicious that it is capable of standing as a dish on it's own right. I hope to achieve something close to that calibre one day, but in the meantime, I taste, smile and remember.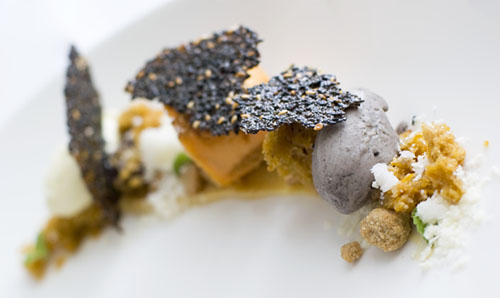 There are flavours of maple, cinnamon, caramel, vanilla, walnut and black sesame in this dessert, along with textures of rich custard, crunchy tuile, buttery crumble, moist cake and silky ice-cream. Black sesame isn't exactly traditional in this pie, but I thought it would go well with the sweet potato. A recipe listing each individual component would be too lengthy, so I'm only including the star component that instigated the entire dish. It is certainly worth the money in your pocket to bake and partake in :
Sweet Potato Cake :
(from Dessert by David Everitt-Matthias)
for the syrup :
110ml water
75g caster sugar
juice of 1/4 lemon
for the sweet potato cake :
50g unsalted butter
2 eggs
200g soft brown sugar
100ml sunflower oil
200g self-raising flour
5g baking powder
300g sweet potatoes, peeled and grated
1/2 banana, mashed
grated zest of 1/2 orange
75g walnuts, chopped
75g green raisins
To make the syrup, put the water, sugar and lemon juice into a saucepan and bring to the boil, stirring to dissolve the sugar. Simmer for a few minutes then remove from the heat and leave to cool.
For the cake, heat the butter in a small frying pan until it starts to turn brown and smells nutty. Leave to cool. Place the eggs in a mixing bowl with the sugar and whisk until pale and thick. Slowly drizzle in the oil and then the butter as if making mayonnaise, whisking all the time. Sift the flour and baking powder together and fold them into the egg mixture. Add all the remaining ingredients except the icing sugar and mix lightly. Transfer the mixture to a greased, lined 30 x 20 x 3cm baking tray and place in an oven preheated to 180'C. Bake for 40 minutes – 1 hour, until a knife inserted in the centre comes out clean.
Allow the cake to cool a little, then remove it from the tin, lightly prick it all over and douse with syrup. Leave to cool completely.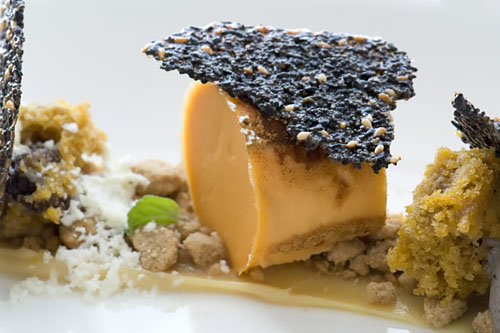 Tags: cake, plated dessert, sweet potato