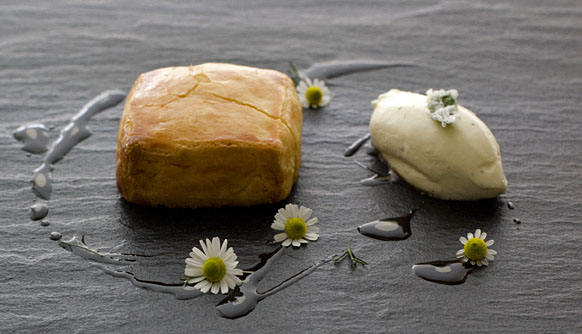 (Pineapple and chamomile custard tart, lemon verbena cream)
I've been putting off writing this post because I had promised to write about the answer to the second question my Optometrist asked me :
2) What is your all-time favourite thing to cook
Truth is, I didn't have an answer for him then, and I don't really have an answer for it now. He simply couldn't believe that I didn't have a favourite dish. Pretend, he said, that it's a perfect Saturday afternoon and you're about to watch the football (he is a Wolves fan, who incidentally have been promoted to the Premier League). The big question is, what is your favourite thing to cook under these circumstances?
Truth also is, that I would bake. But doesn't baking sound terribly limp-wristed under the circumstances? I would bake, because in reality, it would be Sunday afternoon before we got the football here, and usually on Sunday afternoons we have coffee and a bit of cake or a handful of freshly baked cookies. We would sit there picking crumbs off our shirts, while cheering or shouting at the tv.
We'd then spend the rest of the day lazing around, making plans to go cycling but never following through with it. I would slink back into the kitchen again, to bake something. By sundown, no cycling would have been undertaken whatsoever, and dinner would either be bubbling in a pot on the stove, or already laid out on the table. Our dinners rarely feature the same thing twice. I like trying out new recipes or making things up according to what I happen to have at hand. Which explains why I don't have a 'signature' dish, as they call it.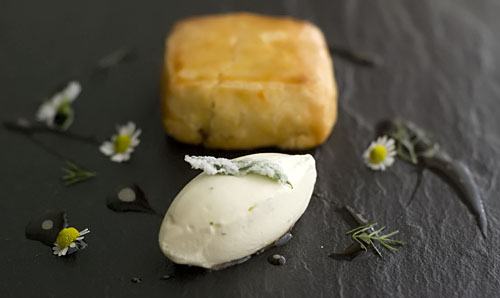 I don't think I've ever made the same dessert twice for B either. Even if it's just a brownie with some ice-cream, the brownie will be from a recipe I hadn't yet tried. I dreamt up the pineapple tart dessert above while I was making small pineapple tarts. Making a larger version was my impatient attempt at trying to speed up the whole process. Yes, stuffing each individual pastry is incredibly fiddly and it really tests your endurance, but the end result is definitely worth it.
The large tart contains pineapple jam and a layer of chamomile custard which I made recently after buying a chamomile plant from the markets. This plant (with a scent reminiscent of green apples and pineapple), and a potted lemon verbena, are the latest fragrant additions to my balcony garden. I had to denude the chamomile of all its sweet white flowers in order to make the custard – a recipe based on David Everitt-Matthias' recipe for a chamomile cream. If you're interested in making a similar tart, use the cream recipe below, omitting the gelatine and double cream. Serve the tart warm, with a dollop of plain cream or lemon verbena flavoured cream.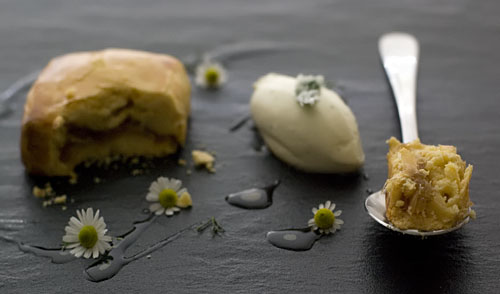 (If you can't be bothered making anything as fussy looking as that, stick to the little pineapple tarts – the recipe by Pichet Ong is provided below (he calls them turnovers). For the pineapple filling, I followed Arfi's recipe. If you can't get a hold of fresh pineapple, you can also used the tinned kind. There's a good recipe for it here, though I would advise erring on the side of caution and starting with less sugar than you think you need, and adjusting the sweetness later.)
Pichet Ong's Caramelised Pineapple Turnovers:
(from the Sweet Spot by Pichet Ong)
for the caramelised pineapple filling :
2 small pineapples, peeled, cored, and finely diced
180g crushed palm sugar
1 cinnamon stick
1/8 teaspoon salt
for the pastry dough :
300g plain flour
50g custard powder
1 tablespoon dried milk powder
180g unsalted butter, at room temperature
70g icing sugar
1 teaspoon salt
1 large egg
to glaze:
3 large egg yolks, beaten
whole cloves (optional)
To make the pineapple filling : Put all of the ingredients into a medium saucepan, set over low heat, and cook, stirring occasinally, until the sugar has dissovled and all the liquid has evaporated, about 45 minutes. Transfer to a bowl, cover, and refrigerate for at least 2 hours, or as long as overnight.
To make the dough : Sift the flour, custard powder, and dried milk together and set aside. Put the butter, icing sugar and salt in the bowl of an electric mixer fitted with the paddle attachment and beat on medium speed until the mixture is light and creamy, about 4 minutes. Scrape down the sides and bottom of the bowl, add the flour mixture, and mix until incorporated. Add the egg and mix just until the dough comes together; it will be quite sticky. Form the mixture into a ball, press it into a 1-inch-thick disk, and wrap tightly in plastic wrap. Chill until firm, at least 2 hours, or as long as overnight.
Line two baking sheets with baking paper. Unwrap the chilled dough and form it into 1-inch balls. Using your fingertips, press one ball into a thin 3-inch disk. Put 1 tablespoon of the pineapple filling in the center of the dough circle, fold over to make a half-moon, and pinch the edges together to seal. Twist off any excess dough, press and gently roll the half-moon shape into a ball. Repeat with the remaining dough and filling. Alternatively, roll the whole disk of dough out on a lightly floured surface to a 1/8-inch thickness, cut out 3-inch circles with a cookie or biscuit cutter, and fill and shape them. Put the filled balls 1 inch apart on the baking sheets, and chill until firm, about 15 minutes.
To bake, preheat the oven to 175'C. Brush the balls with the egg yolks and stick a clove, if desired, in the centre of each. Bake until golden, about 12 minutes. Cool completely on a rack before serving.
Chamomile cream :
(from Dessert by David Everitt-Matthias)
450ml milk
30g fresh chamomile flowers
2 eggs
1 egg yolk
75g caster sugar
50g cornflour
100g unsalted butter, diced
1 1/2 gelatine leaves
30ml lemon juice [I used yuzu]
125ml double cream, whipped
Put the milk and chamomile in a heavy-based saucepan and bring to the boil. Meanwhile, whisk the eggs, egg yolk, sugar and cornflour together. Gradually pour in the milk, whisking to combine, then return the mixture to the pan and cook over a medium heat for 4 – 5 minutes, stirring constantly, until thick. Remove from the heat, place to one side to cool a little, then stir in the butter bit by bit until it has melted. Soak the gelatine in cold water for 5 minutes until soft and pliable. Squeeze out all the water, add the gelatine to the chamomile mixture and stir until dissolved. Stir in the yuzu juice.
Pass the mixture through a fine sieve into a bowl. Cover the surface with cling film and leave to cool. Fold in the double cream and store in the fridge until needed.
Tags: custard, flowers, lemon verbena, pineapple, plated dessert, tart