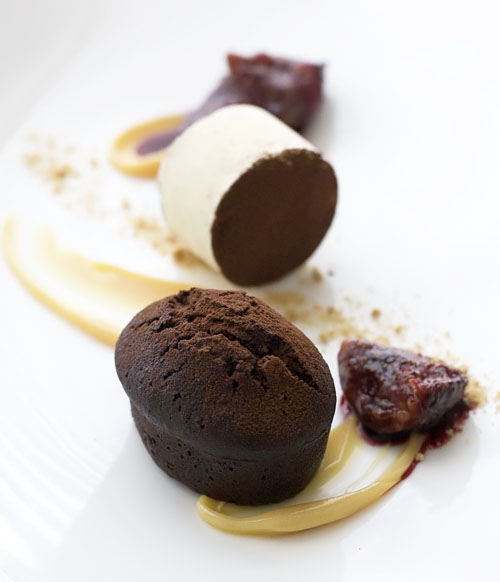 (Chocolate – Caramel – Fig)
I feel I owe apologies to a lot of people, of late.
Firstly, to my neighbour, who complained to me about my constant 'loud walking'. (I suppose it didn't help that a couple of days ago, B and I ran whooping around the coffee table, to celebrate Macheda's goal in the final minutes of stoppage time during the Man U vs Aston Villa match).
Sorry to my dear friend M for cancelling our lunch date, on account of my cold. An equally heartfelt sorry to my mom for missing out on a lunch with her, due to the same cold.
Sorry also to the lonely packet of figs that had been lying untouched in my fridge for over a week, and sorry to myself, for wasting valuable money buying food I didn't need. (Situation now rectified, as pictured above)
Finally, apologies to everyone who has been hounding me for the banoffee teacake recipe. I hadn't really forgotten, honest. Well, maybe a little. I made some bite sized ones recently, which I think are more fun to serve to friends. Definitely didn't forget the recipe this time, so hopefully all is forgiven!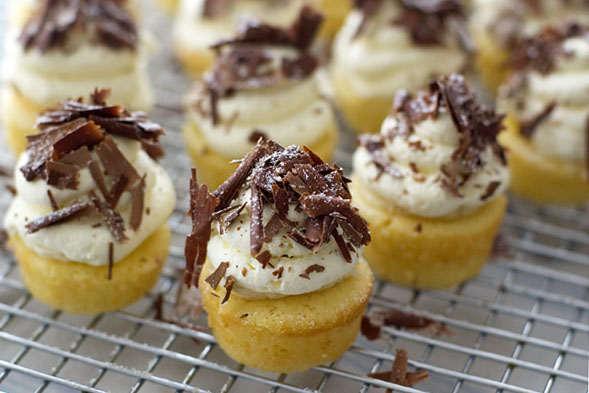 Mini Banoffee Teacakes :
Caramel :
(This caramel is essentially the filling you get in a caramel slice, but baked without the biscuit base. The total yield is more than you will require for 20 mini banoffee teacakes, but I find the leftover caramel useful for all sorts of things – as a macaron or cake filling, or even spread on toast, if you are that way inclined. You can skip this step and use dulce de leche instead, if you have it.)
40g unsalted butter
50g golden syrup
325g sweetened condensed milk
Preheat the oven to 125'C.
Place all ingredients in a pot. Heat on a medium-low flame, until completely melted and homogenous. Stir gently while heating with a spatula to prevent the mixture from catching. Pour into a baking dish or baking ramekin roughly 12 x 18 x 3cm in size. Bake for 15 – 17 minutes until the caramel mixture sets. Allow to cool completely on a wire rack before using. You can make this ahead and store it in the fridge until required.
Teacakes :
(makes 20 mini-muffin-sized cakes; recipe by Tartlette)
67g caster sugar
2 large eggs
56.5g unsalted butter, melted and cooled
58gr sour cream
62.5g plain flour
Preheat the oven to 176'C. Grease mini muffin tin well.
In a stand mixer, whisk together the eggs and sugar until pale and thick, about 2 – 3 minutes. Add the butter and sour cream. Whisk well and then fold in the sifted flour. Divide the mixture evenly between the holes of the muffin tin. The mixture should come up to about 3/4 of the way up each hole. (Tip : Use a measuring tablespoon to scoop the mix)
Bake for 8 – 9 minutes until a skewer inserted into the middle of a teacake comes out clean. Allow to cool on wire rack then remove each cake carefully with a small spatula. (Tip : If you do not have a big enough mini muffin tin, you can bake this in batches.)
To assemble :
1 medium banana
200g whipped cream
dark chocolate shavings or curls, to garnish
Slice the banana into thin rounds. Place a slice on each teacake. Fill a piping bag with the caramel. Pipe about 1 teaspoon-worth of caramel on top of the banana. Pipe whipped cream on top and decorate with chocolate shavings.