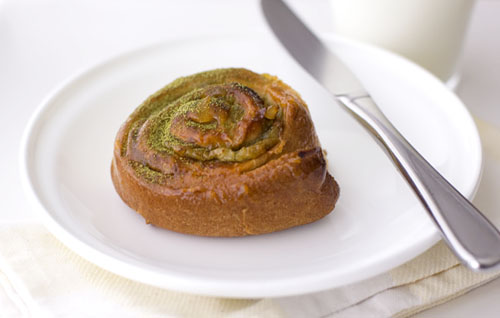 What is it they say about April showers that seems to apply to Sydney at the moment? We are awash with neverending rain and gloomy skies that make me want to stay rugged up all day, nibbling pastries and sipping tea.
April is usually one of my favourite times of the year, what with the many hot cross buns I have already put away (straight onto my hips). At school, April was the time we exchanged Easter eggs, made plans to meet up during the holidays, and talked endlessly about the showbags we were going to get at the Royal Easter Show. This year is made even more exciting by the impending visit of my sister and her family from New Zealand. It's been awhile since I last saw my little nieces. We are planning to take them (and B) to their first ever Show, and I expect I'll be sharing pictures of our day spent there, in the near future.
In the meantime, this weather has put me in the mood for a little baking. These brioche scrolls were inspired by a delicious matcha and adzuki bean danish we had at Sadaharu Aoki's patisserie when we were last in Tokyo. I spread a very generous layer of green tea custard on the brioche dough, scattered some chopped candied ginger and white chocolate on top, then rolled up the dough and portioned it into 12 pieces. These scrolls are incredibly good, straight from the oven, when the custard is still warm and slightly oozy. I had two just while standing there, supervising them as they cooled the rack.
Raquel of Growing Up Green recently passed on an award to me. As thanks, I am dedicating these green tea custard scrolls to her.
Green Tea Custard Scrolls :
(makes 12)
Brioche :
(based on a recipe in Gourmet Traveller Sept 2006)
80ml milk
5g dried yeast
300g plain flour
2 tablespoons caster sugar
1 egg, at room temperature
100g unsalted butter, softened
250 – 300g green tea custard (recipe below)
optional extras : sweetened adzuki beans, chopped candied ginger or white chocolate buttons etc
Warm the milk in a saucepan (to about blood temperature), add the yeast and whisk until yeast dissolves. Stir in 30g flour and stand for 10 minutes or until foamy.
Combine remaining flour, sugar and 1/2 teaspoons sea salt in an electric mixer fitted with a dough hook and mix for 2 minutes on lowest setting. Pour in yeast mixture and egg, mixing until it just comes together [Note: Add a splash more milk if the dough is looking too dry]. Increase speed to medium, add butter a little at a time, then increase speed to high and mix for 5 minutes or until smooth. Transfer dough to a lightly oiled bowl, turn to coat, cover with plastic wrap and stand in a warm place for 1 hour.
Turn brioche dough onto a lightly floured surface, knock back, then knead lightly until smooth. Roll out a 20cm x 55cm rectangle, then, with the long side facing you, spread evenly with green tea custard, leaving a 2cm border on the far long side. Scatter any optional extras you want on top of the custard. Roll into a cylinder, then cut into 12 even pieces and place, cut-side down, closely on a baking paper-lined oven tray and stand for 10 minutes or until risen. Bake at 180'C for 30 minutes or until light golden.
While still warm, brush lightly with a little apricot glaze. When cooled, dust with more green tea powder or icing sugar.
Green tea custard :
(based on a recipe from Pastry : Savory and Sweet by Michel Roux)
[Note: This recipe yields more custard than you need for the scrolls. You can cut the recipe by half, or make the full recipe and use the custard in other ways – as a filling for crepes, for example]
6 yolks
125g sugar
20g plain flour
20g custard powder
500ml milk
1 teaspoon vanilla extract
2 teaspoons green tea (maccha/matcha) powder (or more, if you like it stronger)
In an electric mixer, whisk yolks and a third of the sugar until very thick and pale. Whisk in flour, custard powder and green tea powder.
Heat the milk with the remaining sugar and vanilla. When it boils, pour it onto the egg yolk mixture. Mix well, then return to the stove. Bring to boil, stirring continuously with a whisk. Let it simmer for two minutes, stirring, then strain the custard into a bowl. Place some cling film over the surface of the custard to prevent a skin from forming. Allow to cool completely before using.
(The best way to rapidly chill down the custard is by placing the bowl in an iced water bath. This custard can be made ahead, and kept in the fridge for several days before using.)