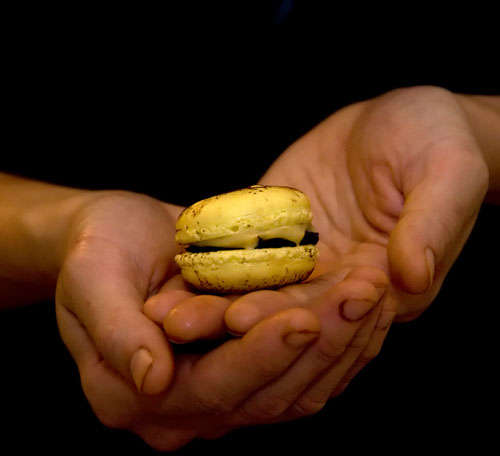 I am thinking it's a sign
That the freckles in our eyes
Are mirror images and
When we kiss they're perfectly aligned

And I have to speculate
That God himself did make us into
Corresponding shapes like puzzles pieces
From the clay

True, it may seem like a stretch
But it's thoughts like this
That catch my troubled head
When you're away, when I am missing you to death

When you were out there on the road
For several weeks of shows
And when you scan the radio
I hope this song will guide you home

–Such Great Heights, Postal Service (but in my head, I hear the Iron & Wine version!).
I'm finally making it official. I have the world's ugliest hands. They are wrinkly, dry and quite often, food-stained. I should probably insure them for $millions. Against ever being photographed again. Lucky you can't see the burns on my arms though. M says I look like someone who self-harms.
Anyway, B returned yesterday from another work trip and I made him these macarons as a surprise gift. He took an impromptu picture while I was sandwiching them together, hence the unprepared hands. The macarons were banana flavoured caramel, with bitter chocolate ganache. I dusted the tops of the macarons with cocoa, to imitate that 'ripe banana skin' look.
As this month is shaping up to be a busy one and I might not be posting as frequently, I thought I would take the opportunity to wish everyone an early Merry Christmas and Happy New Year. I love Christmas, but have to admit, I can't wait for January, as we have tickets to see The Swell Season, Cinematic Orchestra and Camille. Also, I'm hoping the new year will bring new things with it, like a bit of travel or more time for me to spend in my kitchen.
Looking back, it's been a crazy year. I started a new job – my most demanding one to date – and am amazed that I have still managed to squeeze in some blogging time. This blog has always been intended to be a bit of an outlet for me. A place to write down some thoughts, and to help me keep track of the things I have been baking at home. Through it, I have also discovered some inspiring blogs and the people behind them, such as Vera, Duncan, Aran, Lisa, Pete and Matt.
So I want to thank them, and everyone else who has continued to read and be so supportive of all this pixellated junk I've thrown in front of their screens over the past year. 🙂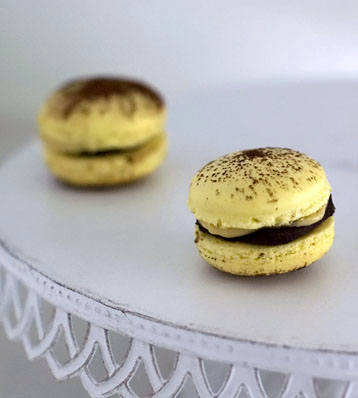 (PS: I have been toying with the idea of making a macaron series, dedicated to some of my favourite blogs. I already have a yogurt one in mind, and a cherry ripe one. What macaron would you make for your favourite blog? Suggestions, please!)
Tags: banana, caramel, chocolate, macaron, petit fours