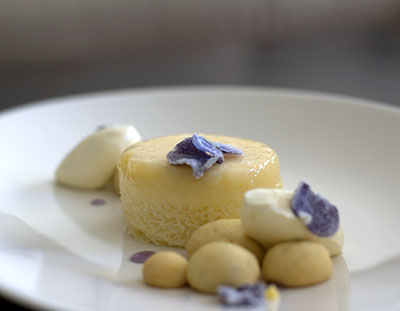 I was helping out the Larder section at work the other day, shucking a dozen oysters, and a thought occured to me. Picture yourself sleeping in your cosy little caravan when all of a sudden there's a godawful hammering sound coming from above. The roof of your caravan rips wide open, you find yourself flipped over in your bed and someone squirts some lemon in your eye.
How weird would that be? What a story to tell all your oyster buddies, if not for the fact that the lemon often signals your demise.
I had a few lemons left from the last time I baked a cake, and so decided to revisit an old favourite recipe. Lemon delicious pudding is one of those desserts that never seems to go out of fashion in most people's minds. Of course, you might not have made it in awhile because like me, you've forgotten how good it tastes and how much you love it. It is one of those comforting treats I want to eat while snuggled up on the couch, watching Mad Men.
Instead of a big bowl of pudding that you scoop a portion out of however, these puddings I made today are petite individual serves that retain everything that is good about lemon delicious. It's a clever little recipe that is unbelievably easy. During the cooking process, a layer of curdy lemon forms on what becomes the top of the pudding after unmolding, while the spongey pudding below is impossibly light and moist. If you don't like lemon, you can even substitute the required juice for a similar amount of passionfruit juice or pulp.
Another good thing about this recipe is that you can make the puddings ahead of time and reheat them by placing them in a water bath when the dessert compartment in your stomach is calling out to be filled. So, I'm including the recipe (apologies for the cup and spoon measures, but I didn't get round to converting them into grams as I normally would) because I think you really really should try them. Even for those enjoying a spot of Summer sunshine at the moment, this pudding can be celebrated with a generous side of cherries or fresh berries.
Lemon steamed pudding :
(makes 6 (but I got 4 because I used bigger moulds); from Craft of Cooking by Tom Colicchio)
1/2 cup sugar, plus additional for dusting ramekins
2 eggs, separated
3 tablespoons plus 1 teaspoon plain flour
pinch of salt
2/3 cup buttermilk
2 1/2 tablespoons fresh lemon juice
finely chopped zest of 1 1/2 lemons
Heat the oven to 150'C. Butter and lightly sugar six 4-ounce ramekins. Beat the egg whites until they hold soft peaks, then set them aside. Sift the sugar with the flour and salt. In a mixer, using the whisk attachment, combine the buttermilk, lemon juice, egg yolks, and lemon zest. Gradually add the flour mixture, then fold in the egg whites. Divide the batter among the prepared ramekins. Place the puddings in a water bath (set the ramekins in a larger pan; fill the pan with enough hot water to come halfway up the ramekins) and cover with aluminium foil. Bake until the puddings rise and are almost firm, about 25 minutes, then uncover and continue baking until the tops are lightly golden and the puddings spring back when touched, about 15 minutes more. Unmold and serve warm alone, with fresh berries, or with berry compote.
[Note: The recipe calls for the mix to be put together in a mixer, but you can also do everything by hand with a whisk and a spatula, as I did]
Tags: lemon, plated dessert, pudding