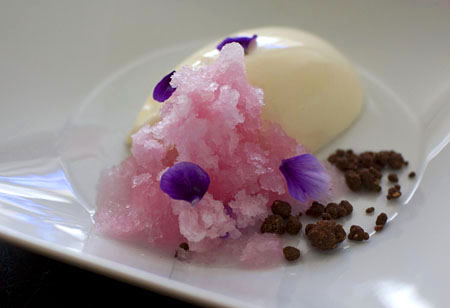 We use a lot of baby herbs and flowers at work. The flowers are tiny little bright coloured buds shipped all the way from Melbourne. Some are even from the Pastry Chef's garden.
Baby sorrel, amaranth, lambs tongue, marigolds, viola, violets, lavender, rose.
Beautiful feminine edifices of nature that thick, clumsy and scarred hands occasionally struggle to handle. It seems almost contradictory that such a hot, sweaty and harsh environment can produce poetry on a plate. As if a raging coal factory could weave the finest silk from it's fiery depths. There's a raw fish dish for example, that has a different baby leaf on each piece of diced tomato. On a different dish, capers are arranged across the plate in what appears to be a study in controlled chaos. It's intensely beautiful, because it appears to be so of-the-moment, even when each step is planned with precision. As for the desserts, what can I say. I'm inspired every day I work with the Pastry Chef.
I've been thinking a lot about colours lately, and flavour pairings. I was always a bit of a rough and tumble kid, growing up, and I think it shows a little in the food I make as well. Gradually, I hope I'm learning to embrace the prettier side of things. Flowers, are a good place to start. 🙂
Lavender, I've been told, doesn't keep well. At a bistro I worked at several years ago, we stored the dried buds sealed and well chilled. Their taste alters over time, and with that in mind, I thought to make good use of the lavender I had bought recently, while it was still in its prime.
A lavender flavoured granita seemed like a good idea. It's something I have not tried making before, and the delicate pink colour that results from infusing the lavender in the liquid really has to be seen to be believed! The recipe comes from one of my favourite books, by Janni Kyritsis.
Lavender granita, served with a light yogurt jelly, is my contribution to Mike's Frozen Desserts event. You can make almost anything into a granita, even beer. If granita isn't really your thing, you can also use lavender to make this or this.
Lavender granita :
(from Wild Weed Pie, by Janni Kyritsis)
1/2 bunch fresh French lavender (yielding 1/2 packed cup flowers)*
1 litre water
250g castor sugar
100ml strained lemon juice
Combine flowers with half the water and bring to the boil. Set aside until lukewarm. Strain, reserving liquid and squeezing flowers well to remove as much liquid as possible. Add sugar to strained liquid and stir well to dissolve, then add remaining water and lemon juice. Pour into a shallow metal tray and place in the freezer. When it has just started to freeze (it will take a few hours to freeze completely, depending on the freezer), scrape with a fork to create granita flakes and return to freezer. Repeat scraping a few more times during freezing and again just before serving.
*I used 10g dried lavender instead.