(Double chocolate brown sugar lamingtons)
The best things I ate this week? Juicy, dribbly, sweet and sour West Indian cucumber pickles, straight from the jar. Plump steamed dumplings stuffed with barbecued eel and spring onions. Misshapen blue corn tortillas piled high with ceviche, pickled jalepenos, avocado, chilli and lime. And this lamington. Turns out the best things in life aren't necessarily always the prettiest.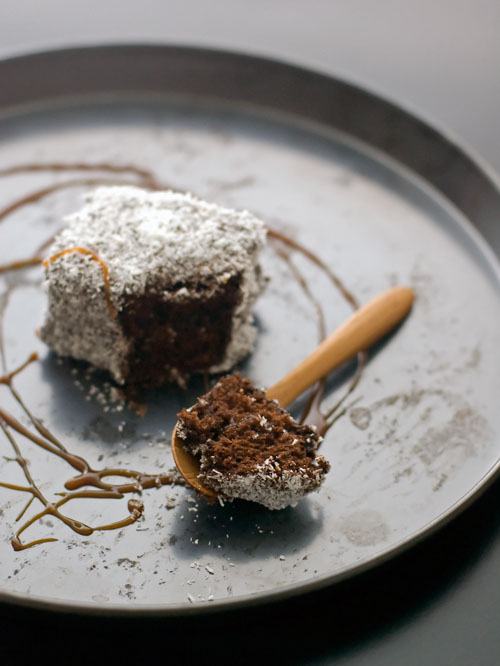 My favourite things act as antidotes to the melancholic nature of a season. August feels less friendly when you've misplaced a favourite woolen blanket or feel too keenly the cold creep of kitchen tiles on bare feet. Sometimes, it's also just about wanting a little bit of cake, nothing too heavy, preferably chocolate flavoured, maybe with a sprinkle of coconut and some brown sugar as well, thanks…
Double chocolate brown sugar lamingtons :
For the sponge :
6 eggs
140g brown sugar
pinch of salt
125g plain flour
50g cocoa powder
1/2 teaspoon baking powder
chocolate sauce for dipping (recipe below)
250g dessicated coconut
Whisk the eggs in an electric mixer until very light and fluffy. Add the brown sugar and salt and continue whisking for a few minutes. Sift the remaining dry ingredients over the egg mixture and fold in gently but thoroughly. Transfer this mixture to a greaseproof paper-lined 8″ x 12″ baking tray. Bake in a preheated 175'C oven for 30 minutes or until a skewer inserted into the center comes out clean.
Once the cake is cooled, peel away the baking paper. With a serrated knife, trim the edges of the cake (or leave it if you don't mind slightly rough edges on your end product) and split the sponge in half lengthways. Spread filling of your choice on one half of the sponge. Here I've used a salted caramel sauce but you can also use cherry jam, chocolate custard or whipped vanilla cream. You can also skip this step if you want unfilled lamingtons. Sandwich the sponge back together and cut into as many squares as you like (12-16 squares, depending on how big you want each portion to be). Dip each square in chocolate sauce and dredge in dessicated coconut.
For the chocolate sauce :
(You can use a more traditional recipe for chocolate frosting, but I prefer this one because it has more depth of flavour and is less sugary. It doesn't set the way the frosting recipes do, but the sauce soaks in a little and sticks well to each sponge square.)
200g brown sugar
120g cocoa powder
400g water
1 teaspoon vanilla extract
In a medium pan, place the brown sugar and cocoa. Whisk in the water and vanilla. Bring to boil, stirring. Allow to simmer for 2-3 minutes until slightly thickened. Strain and leave to cool before using.
Tags: brown sugar, cake, caramel, chocolate, cocoa, coconut, lamingtons, teacake, vanilla