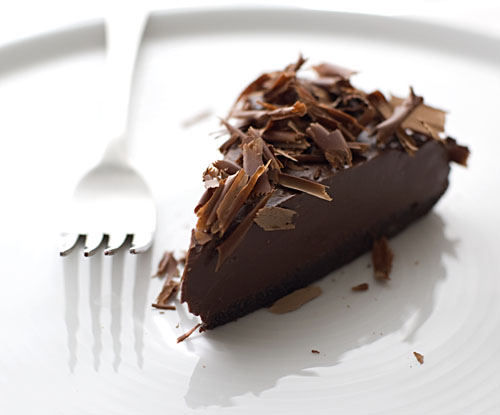 (Silken Chocolate Mousse Cake)
Since my last post, I have been much busier. A little too busy to blog regularly, even though the weekend baking pursuits have continued to produce some interesting things I wish I had more time to share.
I'm taking time out from my regular butter-fests, to write about something a little different today : margarine. The reason being that I recently spent a week baking vegan. Not because I've run out of money for butter or grown tired of my leather shoes, but because what seems like eons ago, Hannah sent me a copy of her cookbook. In case you weren't already a fan, Hannah Kaminsky is the voice behind BitterSweet (a blog I love and visit frequently) and the author of My Sweet Vegan.
I may be fairly inconsistent in my road towards a healthier lifestyle, but vegan baking is not something I often considered gravitating towards. Like most non-vegans, I've long held the view that this style of baking meant being prepared to search for hard-to-get (and often more expensive) ingredients such as vegan "sour cream", brown rice syrup and soy creamer, or willing to make odd substitutions such as applesauce and bananas to replace butter in a recipe, or use tofu in a cheesecake.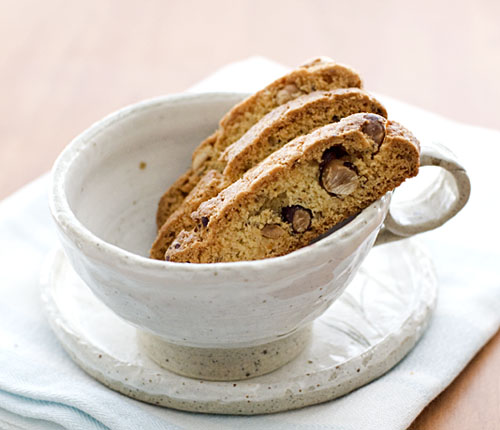 (Hazelnut Orange Biscotti)
Rather unexpectedly then, my favourite recipe from My Sweet Vegan turned out to be a Silken Chocolate Mousse Cake (pictured above), which had a fantastic gluten-free, no-bake base, and a luscious, rich and flavoursome chocolate mousse featuring silken tofu as one of the main ingredients. Also high on my list of favourites, was the Orange Hazelnut Biscotti which featured items you'd find in most typical pantries.
The only recipe that I would not make again, of the handful that I tried, was the Black Bottom Blondies (not pictured), because I didn't like the texture of the blondies, even though the brownie component was really delicious.
Apart from the blondie, the recipes I tried from the book were met with considerable praise from my taste-testers (all of whom were non-vegans). There were some detractors for the chocolate mousse cake who did not like the consistency of the tofu in the mousse, but you know what they say about pleasing some people some of the time..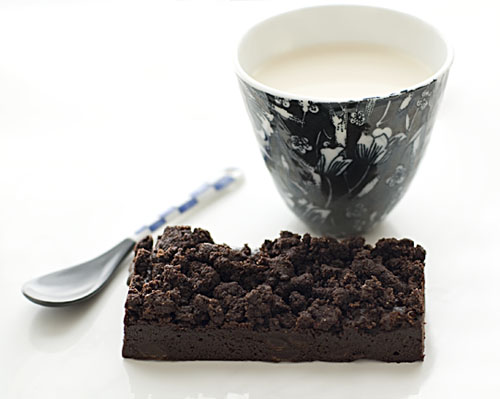 (Crumb-topped Brownie)
After much use of margarine, soy milk and soy yogurt, I can safely say that Hannah's book was a pleasure to bake from. In fact, I even have a renewed respect for Hannah's talent and her passion for what she believes in.
My Sweet Vegan makes for an excellent introductory guide for those who aren't vegan but like to try something different, or for those who already have margarine in their kitchen, and would like to expand their vegan repertoire. Refer to it when you're feeling virtuous, or if you're making a treat for a vegan friend. Either way, it's a bit of a sweet win-win situation (especially when you end up with something like Sesame Chews. Who cares if it's vegan when it's this delicious!).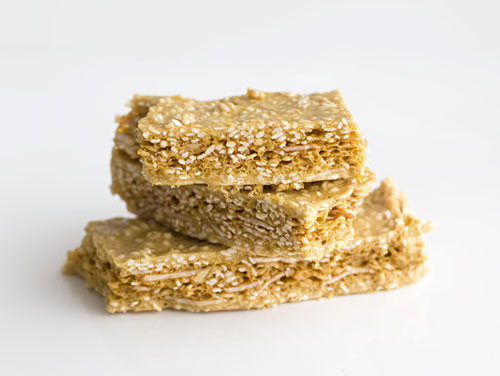 (Sesame Chews)
Tags: biscotti, brownie, chocolate, gluten free, hazelnut, mousse, sesame, vegan