I've been having mixed feelings about all this pleasant weather we're experiencing. Firstly, it's too sunny. Unless you're Mariah Carey, you don't earn any friends by walking around with your umbrella up on a hot Summers day. Just ask the guy who yelled, "It's not raining!" out of his car window at me.
But all this sunshine is also allowing the balcony garden to go from strength to strength. I have cress growing on our kitchen window sill, and pea sprouts planted in a random collection of containers outside. The sprouts take less than a week from planting to harvest and taste utterly delicious. Well worth the non-effort.
Most of the greens have ended up on our dinner plates. Occasionally, I've baked herb tartlets or scones for a snack. This morning, I thought I'd give Proust's aunt a run for her money and made a batch of savoury madeleines, flavoured with brown butter, cheese and a mixed bunch of herbs I gathered from the garden.
If you don't have a mini madeleine tray, you can also bake these in small financier tins or as mini muffins.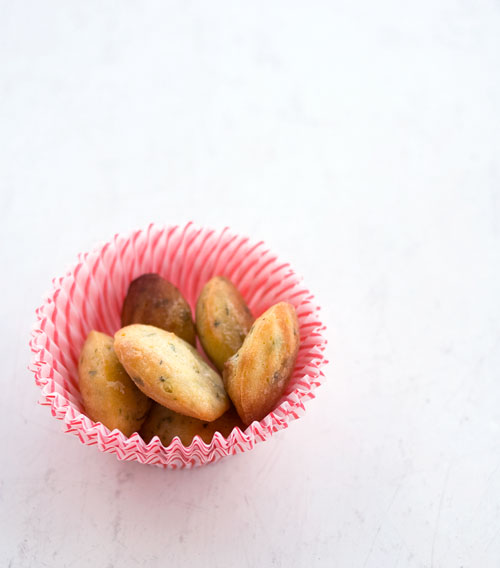 Herb and cheese madeleines with mustard yoghurt :
(makes 1 tray of mini madeleines)
For the madeleines :
2 eggs
1 teaspoon sugar
1/2 teaspoon sea salt
70g butter
50g plain flour
pinch of baking powder
1/4 teaspoon dried chilli flakes
2 tablespoons chopped fresh herbs or sprouts
2 tablespoons grated parmesan or cheddar cheese
Preheat the oven to 200'C. Grease and flour the mini madeleine tray, tapping out any excess flour.
Melt the butter in a small pan, cook it until it turns a nut-brown colour then carefully strain it into a bowl to cool down.
Whisk the eggs, sugar and salt in an electric mixer on high until very light and fluffy. With the mixer running on low, drizzle in the browned butter. Fold in the flour and baking powder, followed by the chopped herbs and grated cheese. Pipe or spoon the mix into the prepared madeleine tray and bake for 4-5 minutes until cooked. These are best eaten warm.
For the mustard yoghurt : Mix 2 teaspoons wholegrain mustard with 4 tablespoons of thick yoghurt. Season with a pinch of sea salt, pepper and a squeeze of lime juice. Serve in a little jar for dipping. class=