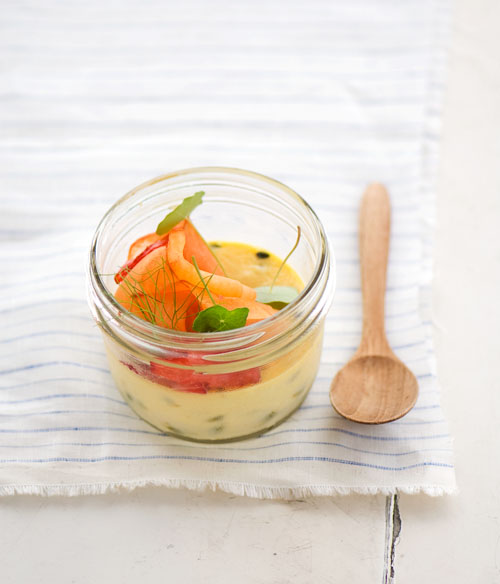 (Baked passionfruit custard with strawberries and apricot)
There are some things I crave occasionally. Peace and quiet is one, cold custard is another. This weekend, I'm getting a good dose of both since a bag of cheap passionfruits inspired me to make a few batches of custard, and Barry is spending a week working in San Francisco.
This recipe is for Anna. Funny story, Anna and I met one day on her way to the restrooms. In a restaurant, that is, not a nightclub, just in case you really needed to know. But perhaps that was too much information already.
One other thing.. did you know, if you blend passionfruit pulp with their skins, you get pink instead of yellow juice? How neat would pink passionfruit sorbet or soda be!
Baked Passionfruit Custard :
(makes 4 small serves)
3 x 55g eggs
55g sugar
100g strained passionfruit pulp (or leave seeds if you don't mind the texture) – roughly 3 large passionfruit or 5-6 small ones
juice of 1/2 lemon
100g pouring/thin cream
Preheat the oven to 165'C.
Mix all the ingredients together, whisking gently only to combine. Avoid incorporating too much air or introducing froth to the mixture. If bubbles form on the surface, skim them off. Strain the mixture (return the seeds to the mix if you wish). Divide between 4 small ramekins and place the ramekins in a hot water bath, on the middle shelf of the oven. Bake for 15-20 minutes or until cooked. They should still have a bit of a wobble in the middle. Remove them from the oven, allow to cool down in the water bath then chill the ramekins for a few hours in the fridge.
You can eat the custards as is, or topped with some fruit or more passionfruit pulp. If you're feeling fancy, sprinkle the tops with sugar and lightly blow torch to caramelise.
If it's too hot to bake, try making a set passionfruit cream instead.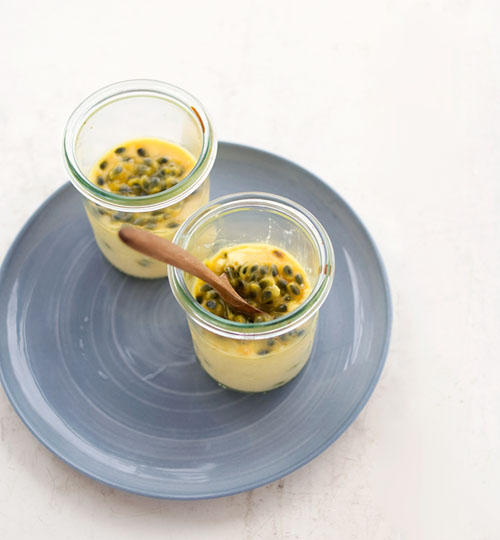 Tags: custard, dessert, lemon, passionfruit, Summer baking