(Cracking fresh Yarra Valley hazelnuts)
After our recent trip to Shanghai, I feel the need to slow down again. Shanghai was a blur of crowded streets and brightly lit concrete towers by night. By day, the streets remained crowded, while sunshine sifted valiantly through pale dusty skies. I remember the sounds – of street karaoke, car horns and bicycle bells, of people having animated discussions on park benches, and the shout of street sellers hawking their wares. All overwhelming and exciting at the same time.
My favourite moments were visiting Fuxing Park for a bit of people-watching, and strolling through Dong Tai Road, admiring the collections of objects on display at the antiques market. Quiet little moments you would not expect to experience in such a bustling city.
And now I'm back, incidentally also armed with a few new baking tins that I bought at a massive kitchen warehouse in Shanghai. They'll be put to use eventually.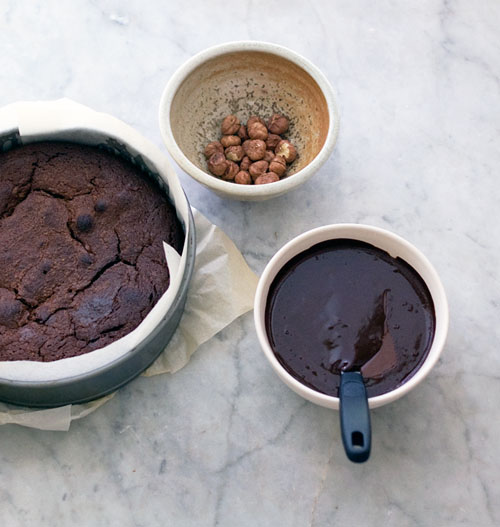 This Nutella cake comes via Nigella Lawson's "How to be a Domestic Goddess" and was made after something moist and very chocolate-y was requested for dessert. It reminded me of the chocolate orange cake from one of the House of Flour stores in Shanghai. I had not intended to seek out cake during that trip (why would you, when there are so many dumplings and crispy duck bits to be eaten?) but after spending the whole afternoon negotiating the perils of being a pedestrian and getting intermittently lost, it was somewhat comforting to spend just half an hour contemplating nothing more than a piece rich chocolate cake and a cup of tea.
As luck would have it, we bought fresh hazelnuts from a farmers market in Melbourne recently, so these were shelled and ground into meal for the cake. In hindsight, we should've bought a bigger bag of nuts and then I could have made my own Nutella too. Maybe next time. Melbourne's not that far away afterall.
If you don't have the book, her recipe is also online here. Now I'm off to enjoy another quiet cake-filled moment.
Tags: cake, chocolate, flourless, ganache, hazelnut, Nigella Lawson