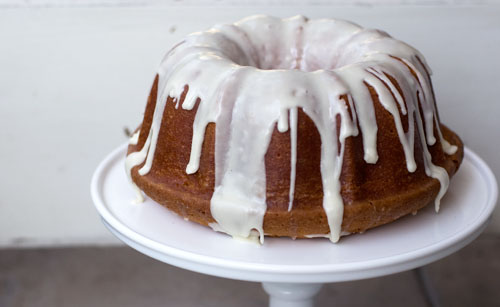 (Orange and yoghurt drizzle cake)
Icing a cake, it has to be said, is purely an optional exercise 99% of the time. At the discretion of the baker, a cake may be garnished with a pelmet of extra sugar to either hide inadequacies or enhance its visual appeal (ie. hide inadequacies). The icing I'm speaking of here is plain water icing; icing sugar and a tablespoon or two of lemon juice or water, mixed to a flowing consistency. Chocolate frosting, as everyone knows, is an entirely different matter altogether, as it is almost always a compulsory addition to any chocolate cake!
From the point of view of someone whose parents were fairly strict about their cake and sugar intake, I must admit this cake was iced with a large amount of childish glee, perhaps to the point of being over-iced. Take that, Choc-Top-free childhood, banned Jacobs gem biscuits with crispy frosting and total and utter lack of fairy bread! Hmm.. Maybe this is why I can't have iced things.
Oranges are such a bargain at the moment, so orange and yoghurt cake was made twice this week. One cake served us well over many tea breaks. This iced one will hopefully take us through the weekend.
Orange and yoghurt drizzle cake :
(adapted from a recipe in Mix & Bake by Belinda Jeffery)
450g plain flour
pinch of salt
1/2 teaspoon bicarbonate of soda
3 eggs
400g sugar
250g softened butter
250g thin yoghurt (or kefir)
grated zest of 2 oranges, juice from 1 orange
Preheat oven to 150'C.
In a Thermomix or food processor, process the eggs and sugar until pale. Add the butter and continue processing until well incorporated. Pulse in the yoghurt, zest and juice, followed by the flour, baking soda and salt. Scrape the mixture into a greased and floured large bundt tin. Bake for 1 hour 15 minutes or until a skewer inserted into the cake comes out clean.
Allow the cake to cool for a few minutes before turning it out onto a plate or wire rack. While the cake is still warm, brush it with the orange syrup then allow to cool completely before icing (if you wish).
Orange syrup :
110g icing sugar
50g orange juice
Mix the icing sugar with the orange juice. Set aside until ready to use.