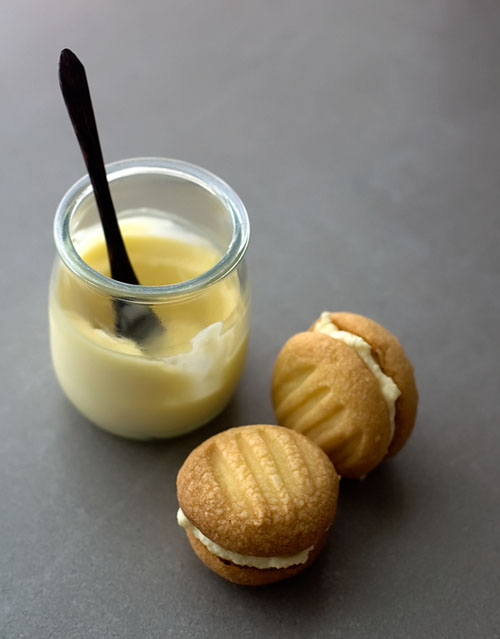 Lemon posset, ricotta buttercream cookies
We've been having a lot of 'compost' dinners this week. These meals arise from uninspired conversations I've had with our fridge. A cook's salvage operation, if you will (now why isn't that a cookbook title?).
Most recently, gradually petrifying parsnips were turned into a puree to serve with beef and braised mushrooms and a shrivelled green apple was peeled, diced and folded into brown sugar cake batter, topped with crumble. It's all a bit of fun but at the same time makes me quietly thankful for things that do nothing but improve with age. Cucumber pickles, pu-erh tea and gingerbread, take a bow.
A neighbour left a bag of home grown lemons at our door recently. Shall we all agree that the best way to say hello to a cook and baker would be with lemons, not flowers? Lemons are one of those great contributors to any compost meal – it doesn't take much of this great ingredient to add a surprising spark to curries and a fragrant lift to some sauces.
In this instance, I returned the favour with a tin of semolina cake drenched in lemon vanilla syrup. The juice also went into dressing a cabbage salad and lots of grated rind flavoured a marble cake and butter cookies. If like me, you have also been finding yourself rediscovering the simple, classic things in life, you won't be at all surprised to hear that stirring freshly squeezed lemon juice into warm cream and sugar makes for a pretty damn good dessert!
Lemon posset :
(potentially enough for 2 if you're trying to be polite)
1 cup thick cream
4 tablespoons sugar
juice and zest of 1 large lemon (you will want at least 2 tablespoons of juice, or a bit more if you like zingy lemon desserts)
Bring cream, sugar and lemon zest to boil in a pan, making sure all the sugar is dissolved. Whisk in the lemon juice and strain into two cups or ramekins. Chill overnight or for at least 4 hours. Eat.