(Chocolate cake truffles)
For the past week I've been busy planning and preparing for a wedding cake I'll be making for a friend. My relative inexperience with most things pertaining to weddings means I'm nervous yet very excited at the prospect of this new challenge. As our little kitchen isn't geared towards the production of large items, I've had to be a bit more strategic with stacking all the cartons of cream in our modestly priced, modestly sized fridge. Our pantry is currently somehow also managing to absorb an extra 2.5kg of bitter chocolate, 4kg of flour, 1kg of cocoa powder and sugar, lots of sugar.
A small test cake was constructed a few days ago and the scrapheap of leftovers resulted in a bowl of cake truffles. Cake truffles are a great way to use cake trimmings or give new life to dry cake. The truffles pictured here were made from devil's food cake scraps mixed with chocolate ganache and chocolate hazelnut sauce, then scooped and rolled in melted chocolate and cocoa powder. You can also return extra cake trimmings back into the oven to bake until they are crisp, then blitz in the food processor and use as a crunchy alternative to cocoa powder.
Once the construction of the final cake is well under way, I have a feeling there will be a few more trimmings crying out to be converted into truffles. The perfect thing to snack on, in case I don't already feel completely surrounded by mountains of chocolate by that stage.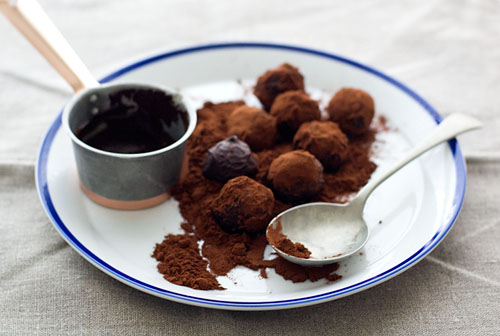 Tags: cake, chocolate, hazelnut, petit fours