(Beets at the growers market)
The best market in town only rolls by once a month, and I'm a little ashamed to say, I hardly ever visit it. Something to do with never quite rising early enough to get to the stalls before they've either nearly sold out or completely packed up. Favourable Spring weather last weekend however, forced my hand (and my alarm clock).
My market bag filled up very quickly with farm eggs for a cake, strawberries to snack on, bunches of pungent herbs, baby tomatoes bright and colourful like little jewels, and a bundle of Easter egg radishes. The trip left me very inspired and I couldn't wait to come home and start cooking with my purchases. Oh wait, did I say cook? Actually, I sliced up the tomatoes, made a quick dressing and in no time at all, was tucking into an early lunch.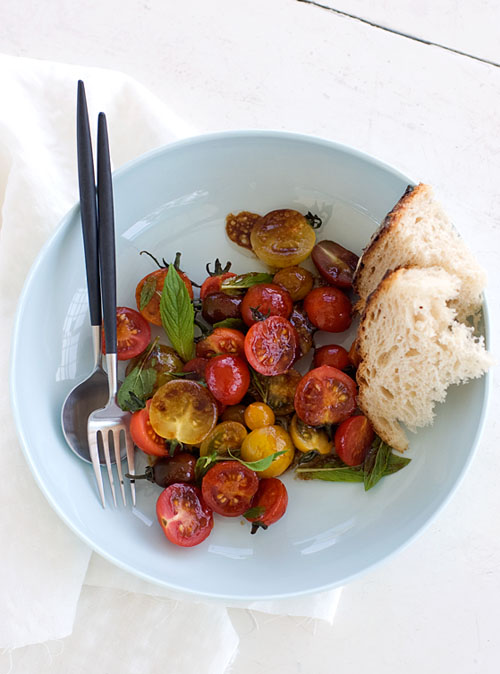 (Tomato and mint salad with a tamarind dressing)
Spring never tasted so good.
Tamarind dressing for a tomato salad :
(serves 4; recipe by Neil Perry)
25g tamarind pulp
2 tablespoons light palm sugar
15ml light soy sauce
60ml extra virgin olive oil
Combine the tamarind pulp and 1 tablespoon of hot water in a bowl. Stand for 10 minutes or until soft, then push through a fine sieve, discarding seeds and set aside.
Combine the sugar with 2 teaspoons of water in a saucepan and cook for 3 minutes over medium heat or until caramelised, add tamarind water and soy sauce. Cool to room temperature, then gradually add olive oil, whisking continuously until emulsified. Makes about ½ cup.
(To serve, slice tomatoes and toss through with plenty of salt, pepper, torn mint leaves and the tamarind dressing. Chilli addicts may want to throw in some sliced chillis into the mix as well.)