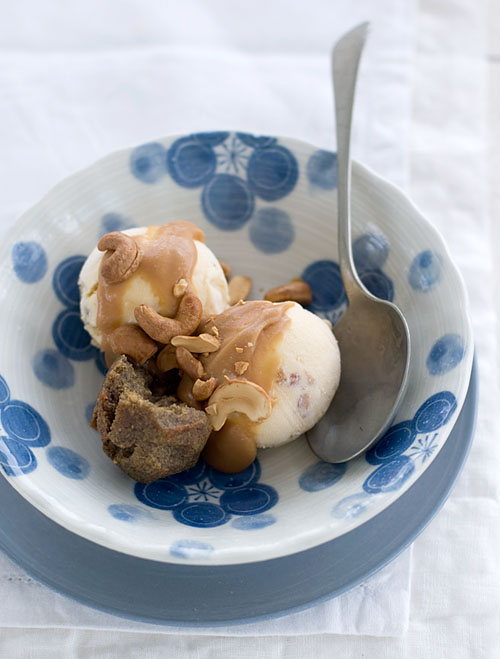 (Cashew brown butter ice-cream)
I've had the house all to myself now for almost three weeks. The silence is deafening. And surprisingly calming. Despite initial misgivings about taking a holiday during this period of solitude, I'm finally enjoying waking up every morning to a completely open ended day. The lack of obligation to be somewhere, do stuff, is refreshing.
Cooking for a single person however, has made me a creature of habit. After purchasing a substantial amount of kale at the markets over the weekend, I've discovered that I really enjoy eating it every day. Simply sauteed with some young garlic, chilli and a few salty anchovies, served with brown rice or pearl barley, it has become the main meal I can't seem to get tired of.
Dessert this week has regularly featured some form of ice-cream. For lovers of nutty, aromatic brown butter, this flavour is never better celebrated than in the form of ice cream. Use the leftover egg whites to make little brown butter friands like the blue corn cakes below.
(Blue corn cakes)
Cashew brown butter ice-cream :
(based on a recipe from Dam Good Sweet by David Guas & Raquel Pelzel)
120g (1 stick plus 1 tablespoon) unsalted butter
1 cup roughly chopped cashews, toasted
360g (1 1/2 cups) milk
360g (1 1/2 cups) cream
100g (1/2 cup) brown sugar
8 large egg yolks
pinch of salt
splash of brandy (optional)
Brown the butter in a pan, then pour it into a bowl and let it cool. Don't worry if a few specks remain in the browned butter. It will be strained off later.
Bring the milk, cream, and sugar to a boil in a large pot over medium heat. Turn off the heat and set the pot aside. Start whisking the egg yolks in an electric mixer on high speed. Slowly pour in the browned butter, then turn the mixer down to low and gradually incorporate the hot milk mixture. Strain, stir in the salt and brandy and chill the mixture, preferably overnight.
Churn the mixture in an ice-cream machine according to your ice-cream maker's instructions. Just before the cycle is complete, add the chopped cashews and allow it to be mixed well into the ice cream.