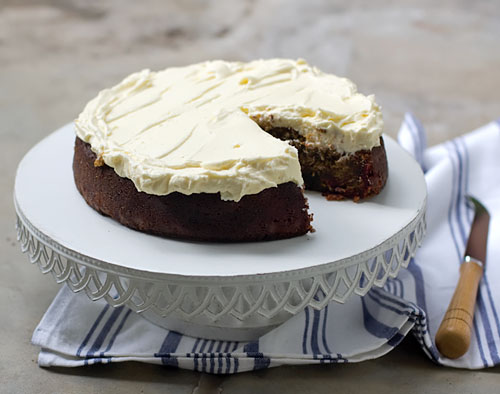 (Beetroot cake with cream cheese frosting)
My favourite baking pan is not some third generation heirloom treasure but a ten dollar bargain I once purchased from the department store. As with most things, time will eventually allow that attractive patina of age to settle into it's spring form frame. In the meanwhile, I'm rather enjoying the fact that nothing whatsoever sticks to it. Not even a batter, sticky with threads of sugary beetroot or slightly singed and caramelised raisins.
I baked this cake a few days ago and several days later, only a small slab of it remains on the kitchen counter. Testament to our greed and the cake's deliciousness. The recipe is based on Joanne Chang's classic carrot cake recipe from Flour. If you don't like beetroot, make it with carrot, and be sure to make it in your favourite baking pan.
Beetroot cake with cream cheese frosting :
2 eggs
200g light brown sugar
150g vegetable oil
3 tablespoons yogurt
1 teaspoon vanilla extract
160g plain flour
1/2 teaspoon baking powder
1/2 teaspoon baking soda
1/2 teaspoon sea salt
1/2 teaspoon ground cinnamon
1/2 teaspoon ground ginger
260g peeled and grated raw beetroot
80g raisins
Preheat the oven to 175'C. Butter and flour an 8-inch cake pan.
In a small bowl, sift the flour, baking powder, baking soda, salt, cinnamon and ginger.
In a stand mixer, whisk the eggs and brown sugar for about 3 to 4 minutes until light and thick. In a small jug, whisk together the oil, yogurt and vanilla. Slowly pour the oil mixture into the egg mixture, mixing on low speed.
Fold the flour mixture into the egg mixture, until just incorporated, then fold in the grated beetroot and raisins. Pour the batter into the prepared cake pan and bake for about 1 hour, or until a skewer inserted into the cake comes out clean. Allow the cake to cool completely on a wire rack before removing it from the pan and covering it in frosting.
For the cream cheese frosting :
250g cream cheese, at room temperature
80g unsalted butter, at room temperature
150g icing sugar, sifted
pinch of salt
Place the cream cheese, butter, icing sugar and salt in a bowl of a mixer. Beat well until smooth and creamy. Set aside until ready to be used.
Tags: beetroot, cake, cinnamon, cream cheese, vanilla