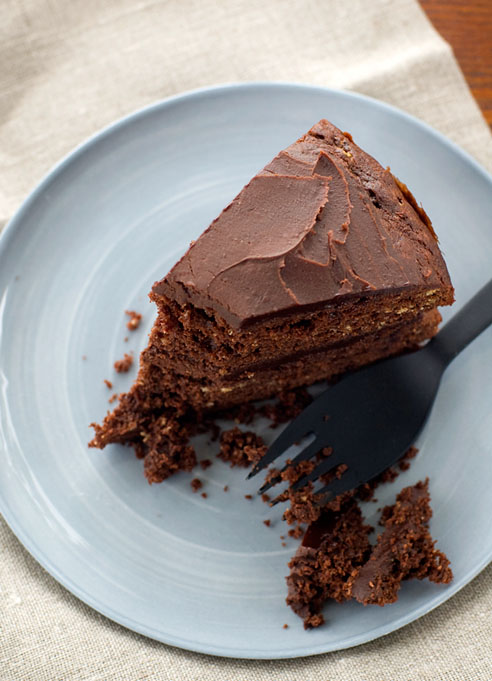 (Devil's Food Cake)
Another year, another gateau. Baked, iced and ceremoniously divided into thick slabs. We forked it over cups of tea, sitting next to a gas heater set on high. I couldn't help but smile that chocolate-stained smile that always makes him shake his head and laugh.
Another year, another birthday. While swilling a glass of red over dinner with friends, he declared, "I don't feel any older".
Well, what a relief, I thought. Because, I secretly do. And with every passing year, that creeping fear that I'm no closer to realising where I want to be or what I want to be doing.
But I do love birthdays, if not mine. So with wine, and a 10-course meal (with a friend who cheekily wants to tell the waiter that she's allergic to micro herbs), and later bundled with giggles and wobbly heels into a cab, I'm happy we're all a year older. Or is that a year younger?
When it comes to birthdays, the devil is never in the detail.
(Happy Birthday B!)
Devil's Food Cake :
(adapted from a recipe in Baker & Spice by Dan Lepard and Richard Whittington)
150g 70% bittersweet chocolate, chopped
100g caster sugar
125ml milk
40g cocoa powder
3 eggs separated + 1 egg yolk
160g unsalted butter, softened
85g brown sugar
225g plain flour
1 teaspoon sea salt
1 teaspoon bicarbonate of soda
170g plain yogurt
Preheat the oven to 170'C. Butter and line two 23cm springform cake tins.
Put the chocolate, caster sugar, milk, cocoa powder and 2 egg yolks in a bowl set over simmering water. Stir until chocolate has just melted, then remove from heat and set aside.
In the bowl of an electric mixer, beat the butter with the brown sugar until light and fluffy. Beat in the remaining 2 egg yolks, then the flour, salt and bicarbonate of soda. Fold in the chocolate mixture followed by the yogurt. In another bowl, whisk the egg whites until firm and fold this through the cake mixture.
Divide the mixture between the 2 tins and lightly smooth the top. Bake in the centre of the oven for 30-35 minutes or until a skewer inserted into a cake comes out clean. Allow the cakes to completely cool before icing.
For the icing :
200g 70% bittersweet chocolate, chopped
25g cocoa powder
80ml hot water
1 tablespoon golden syrup
45g unsalted butter, softened
100g icing sugar, sifted
1 egg yolk
Melt the chocolate in a bowl over simmering water. In a small bowl, combine the cocoa powder, golden syrup and water. Add this to the melted chocolate and whisk until combined. Remove from the heat and whisk in the butter, icing sugar and egg yolk. You can add more icing sugar than the recommended amount if you wish. Chill this mixture until it is thick and spreadable.