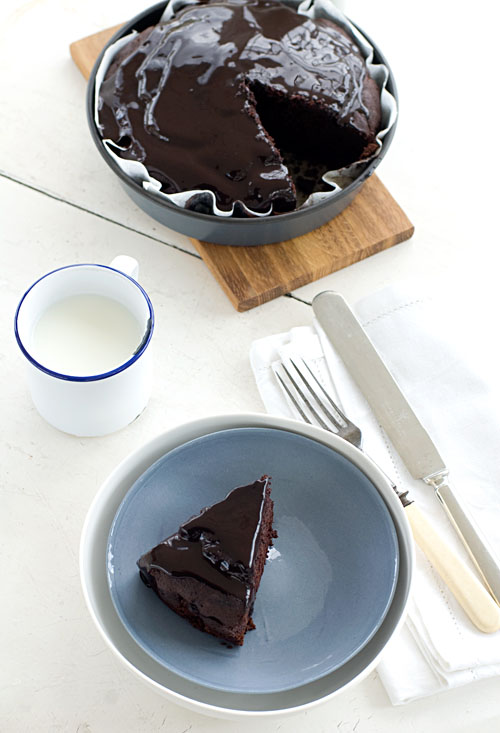 (Joanne Chang's Vegan Chocolate Cake)
Once upon another lifetime ago, I decided to 'do my bit for the environment' and adopt a vegetarian lifestyle. This lasted several years until eventually I gave it up as my interests in cooking and restaurants grew to the point where I wanted to be able to learn from eating/tasting everything at least once.
Chefs are often notorious for being quite vocal about their dislike of vegetarians and vegans. Sometimes you can't blame them, when customers claim to be vegan right up to the dessert course, where they knowingly order the creamiest dish on the menu.
These days, my kitchen lifestyle choice is to cook with eggs and butter, in moderation, but I've always been interested in what vegan baking has to offer. Working under certain constraints sometimes inspires you to think more creatively.
When we were in New York late last year, I got a chance to visit the famed vegan/gluten-free bakery, Babycakes NYC. Inspired by the trip, I even bought their cookbook. Unfortunately, despite the many delicious things we tasted at their store, I couldn't get the book's recipes to work for me. For example, this Babycakes banana bread I made recently, with agave nectar, coconut oil and other expensive ingredients, looked better than it tasted.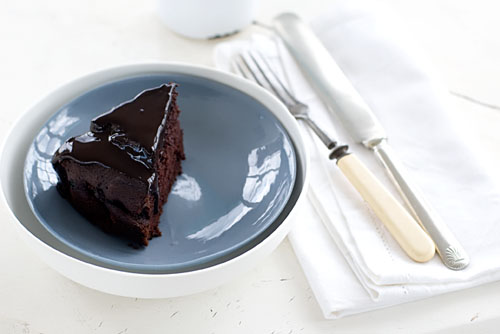 Despite being discouraged, it didn't stop me from wanting to try the vegan chocolate cake recipe in Flour by Joanne Chang. You can't help but love the simplicity of the recipe (Essentially, combine wet ingredients with dry ingredients. Bake. Eat.) and the lack of having to seek out speciality ingredients.
This is by no means the best chocolate cake I've ever eaten. As a vegan (and low-fat!) cake, it is suitably moist with a pleasing chocolate flavour. A recipe worth attempting especially if you have long deleted eggs and dairy from your baking life.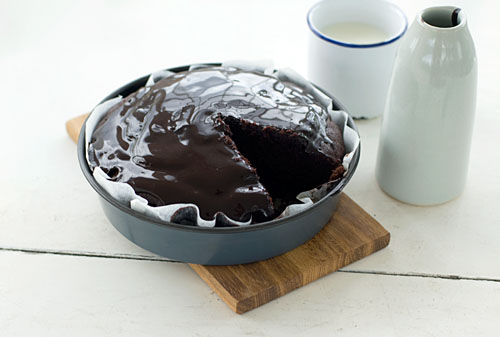 Vegan Low-Fat Chocolate Cake :
(from Flour by Joanne Chang)
210g unbleached all-purpose flour
100g caster sugar
40g Dutch-processed cocoa powder
2 teaspoons instant espresso powder, or 1 tablespoon instant coffee powder
1 teaspoon baking soda
1/4 teaspoon kosher salt
240g water
50g canola oil
1 teaspoon vanilla extract
2 tablespoons unsulfured light or dark molasses
Position a rack in the center of the oven, and heat the oven to 175'C. Butter and flour a 6-inch round cake pan. [I used a slightly smaller pan and reduced the baking time by about 10 minutes]
In a medium bowl, stir together the flour, caster sugar, cocoa powder, espresso powder, baking soda, and salt. In another medium bowl, whisk together the water, oil, vanilla and molasses. Pour the liquid mixture into the flour mixture and mix together with a wooden spoon until the batter is smooth and homogeneous. Pour the batter into the prepared pan.
Bake for 50 to 55 minutes, or until the cake springs back when lightly pressed in the middle with a fingertip. Let cool in the pan on a wire rack for about 1 hour. Then invert the pan onto the rack, lift off the pan, turn the cake right-side up, and let cool completely.
Just before serving, dust the top with icing sugar. [I topped the cake with a vegan chocolate sauce instead]
Tags: cake, chocolate, cocoa, Joanne Chang, vegan