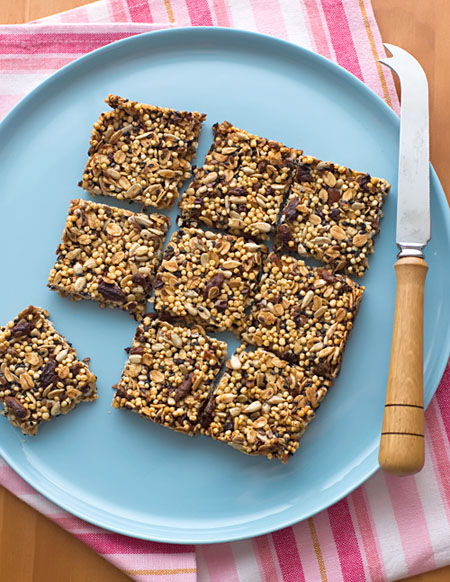 (Honey Quinoa Bars)
Floods and heat waves aside, the year has started pretty well for me personally. In fact there's almost nothing to complain about unless I need to vent over lacking any material that requires a grumble or two to be lodged on this blog.
I'm loving my new job and have been able to spend marginally more time with the bf. Plus one of my closest friends recently moved across the road and my brother is on the brink of tying the knot with his long-term girlfriend, hence a big family reunion is in the works. In terms of social math, this equates to feeble forays into reviving a near-extinct social life.
So unless butter and egg supplies dwindle, and my physiotherapist moves to New Zealand (oh wait, she did), it appears as though I have nothing to write about!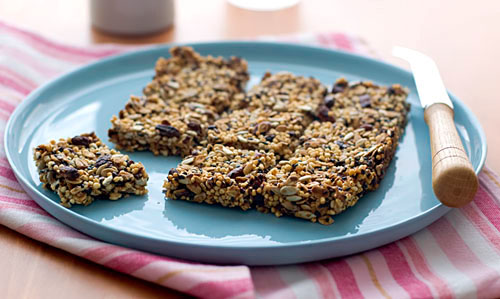 I've been experiencing a health food store kick recently. Mind you, it's not quite the same thing as being on a health kick, because that would probably mean having to eschew these lovely sweet and chewy bars. A recent visit yielded some interesting ingredients including puffed quinoa and amaranth, black tahini and coconut butter which I used in a Babycakes NYC recipe (more on that in a future post). The puffed quinoa went into some honey bars that we enjoyed as breakfast and midnight snacks for the rest of the week..
The honey quinoa bars started life as..
Honey Hemp Bars :
(from Chewy Gooey Crispy Crunchy by Alice Medrich)
24g puffed rice or millet cereal [I used puffed quinoa]
66g hemp seeds
53g pecan or walnut halves, medium-finely chopped
2 tablespoons black (or white or tan) sesame seeds
47g raw pumpkin seeds [I used sunflower seeds]
2 teaspoons flax meal (ground flaxseed)
2 tablespoons dried currants [I used wolfberries/goji berries]
140g honey
1 tablespoon date paste or mashed dates
rounded 1/8 teaspoon salt
1/2 teaspoon pure vanilla extract
Preheat oven to 150'C.
In a large bowl, toss the cereal, hemp seeds, nuts, sesame seeds, pumpkin seeds, flax meal, and currants to mix.
In a small saucepan, warm the honey, date paste, salt, and vanilla, stirring and mashing until the date paste is dissolved and/or evenly dispersed. Pour the honey mixture over the dry ingredients and fold until all of the ingredients are moistened and sticky. It may seem at first that there is not enough honey, just continue to fold.
Scrape the mixture into an 8 inch square pan (greased and lined with baking paper) and spread it evenly with a fork. Using the back of the fork tines, press the mixture very firmly all over to compact and adhere the ingredients.
Bake for 30-40 minutes, until the top is barely golden (if in doubt, take it out so that the honey does not get scorched). Cool in the pan on a rack. Lift the ends of the baking paper to remove the bars from the pan. Gently peel off the paper. Use a heavy sharp knife to cut bars or squares. May be kept in an airtight container for 2 weeks or more.
Tags: Alice Medrich, gluten free, honey, quinoa, sesame