(Black forest skillet cookie)
Have you ever tried doing a skillet cookie, she asked.
Well no, actually I hadn't, and was kicking myself that I didn't think of it sooner. It seems almost a logical conclusion to reach, from skillet cakes to cookies. I suspect skillet cookies are the ultimate lazy but impressive dinner party dessert, brought to the table in all it's piping hot glory, and served straight from the pan.
Try baking your favourite chocolate chip cookie recipe in a skillet by pressing the cookie dough into the skillet and baking for about 30 minutes or until just set. A standard chocolate chip recipe yielding roughly 24 cookies should be sufficient for a large 9 inch skillet. Or try my recipe below, which is based on Matt Lewis and Renato Poliafito's Black Forest Chocolate Cookie recipe as appears in Baked.
This skillet version of their cookie is best described as an amplified version of a brownie. A brownie cookie on 'roids, if you will, with a crackingly good crust (my favourite part of any brownie) and slightly oozy interior (especially if you dig in while it's still warm). Serve with vanilla ice-cream if you have no hips to speak of and would like some.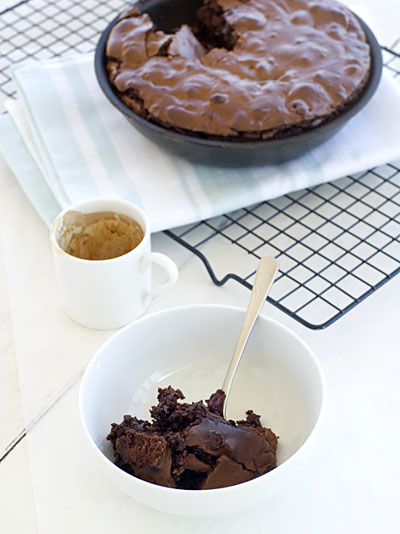 Black Forest Skillet Cookie :
220g dark chocolate (70% cocoa)
75g unsalted butter
85g brown sugar
120g caster sugar
3 eggs
1 teaspoon vanilla extract
55g plain flour
1/2 teaspoon baking powder
1/2 teaspoon sea salt
80g dark chocolate chips (60% – 70% cocoa)
80g milk chocolate chips
80g dried sour cherries (or dried cherries/cranberries)
Preheat the oven to 175'C. Arrange a rack on the lower third of the oven.
Sift the flour, baking powder and salt together into a bowl and set aside.
Melt the 220g dark chocolate and butter together in a bowl over a bain-marie (or in the microwave). Stir and set aside to cool.
In an electric mixer, whisk the eggs and sugars on high speed until the mixture is pale and thick. Add the vanilla extract and cooled chocolate mixture and beat until just combined.
Fold the flour into the chocolate/egg mixture, then both the chocolate chips and dried cherries.
Scrape the mixture into a 7 1/2 inch skillet (if your skillet is larger or smaller, adjust baking time accordingly) and bake for 30-40 minutes, or until the edges are well browned and the top is set. Transfer to a wire rack to cool. Serve straight from pan.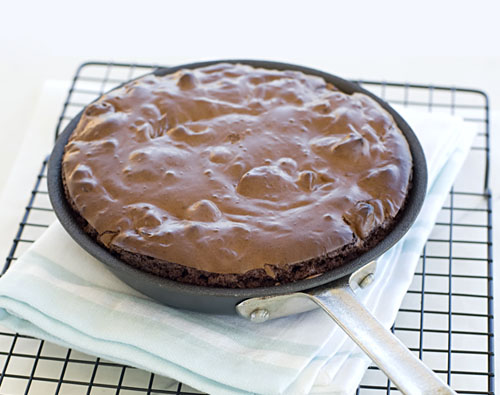 (With thanks to chocolatesuze for the inspiration.)
Tags: chocolate, cookies, sour cherry, vanilla