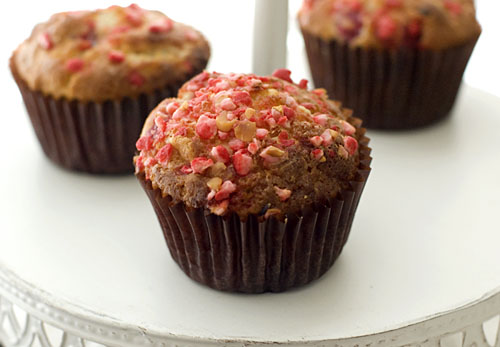 (Raspberry, white chocolate and lavender muffins)
I'll sing of the walls of the well
And the house at the top of the hill
I'll sing of the bottles of wine
That we left on our old windowsill
I'll sing of the usual spin
Getting sadder and older, oh love
–Cliquot, by Beirut.
I must be getting old. Ahem. Older, I mean. Even if you discount the more rigorous application of face cream, the ownership of bed socks and my inability to use the word 'sick' when not referring to the fact I feel physically unwell, other signs well and truly exist.
Perhaps it's just that I'm noticing the little things more. Like how pleasing it is to experience the crinkle of dried leaves underfoot. Or how beautiful it is after the rain (that we've experienced plenty of this Winter), when umbrellas are downed and fallen leaves resemble pasted shadows on slick pavements. There was a time when I recall constantly being in a rush to be somewhere different to where I already was. Wanting to be taller, yearning to be older; needing to acquire, consume, and never feeling satisfied.
These days I don't mind that age is holding my hand gently. Age stays the hand of the girl who once threw a head of broccoli against the kitchen wall in anger. A spray of green flew right back at her, as though Spring had sprung in the room. Now age and I cross the road arm in arm, pointing out those little things that are capturing my attention all over again. Like the pleasure of those extra salty, extra crunchy bits at the bottom of a chip packet, or one bite of cake and one sip of tea, repeated until either or both runs out.
Sometimes I want to let go and run until my legs are screaming and I'm back there again – needing, wanting, acquiring, consuming. But age won't allow it.
So yeah, I must be getting old, and you know what – it doesn't seem like such a bad thing.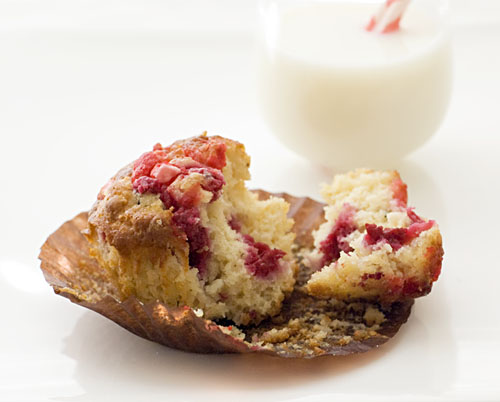 (Muffins reminds me of being a kid. Chocolate was always my preferred flavour but now I'm starting to better appreciate the bittersweet, slightly sour, occasionally salty nature of getting older. So raspberry and white chocolate it is.)
Raspberry, white chocolate and lavender muffins :
(based on Alice Medrich's recipe in Pure Dessert)
190g plain flour
65g wholemeal flour
1 tablespoon baking powder
1/2 teaspoon salt
1 teaspoon dried lavender
2 large eggs
scant 2/3 cup sugar
235ml skim milk
65g unsalted butter, melted
140g frozen raspberries
100g white chocolate, chopped
crushed pink pralines to garnish, optional
Position a rack in the lower third of the oven and preheat to 205'C. Line the muffin tin with pleated paper liners.
In a medium bowl, mix the flours, baking powder and salt. In another bowl, whisk the eggs and sugar together. Whisk in the milk, butter and dried lavender. Pour the wet mixture over the flour mixture and fold gently until all of the dry ingredients are moistened but the batter is still very lump and uneven. Add the frozen berries and chocolate and fold until just distributed throughout the batter. Do not try to create a smooth, homogenous-looking batter, or your muffins will be tough.
Divide the batter among muffin cups. Sprinkle some pink pralines over each muffin. Bake for 15-18 minutes. Toothpick inserted into batter should come out clean.
Tags: lavender, muffins, raspberry, white chocolate