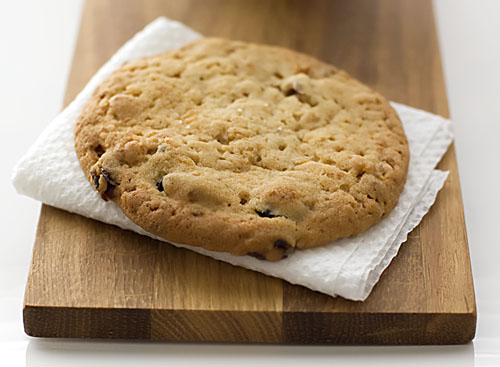 (Milk and Cereal Cookie)
Tara will forgive me, I hope. It has taken me well and above what anyone would politely consider a reasonable gap between promise and deliverance of this recipe. If it's any consolation, I blame the cookie's deliciousness. It took several batches before I finally managed to hang on to a single cookie long enough to take a picture of it.
This milk and cereal cookie combines my favourite components from two Momofuku Milk Bar cookies : the chewiness factor from the cornflake cookie, and the milky richness of the blueberry and cream cookie.
The main revelation for me, apart from the wonderment of the milk crumble (which I imagine could form an interesting garnish for a 'peaches and cream' dessert), was the use of glucose in the cookie dough which made it crazily, amazingly and rather giddy-headedly, chewy. I have taken out some of the sugar from the original recipe, and am happy with the sweetness level it now stands at. If you like, you can omit a bit more caster sugar and the cookie will still be pretty chewy. Bear in mind however, that every gram you remove from the recipe, is one less gram of fun that you're sucking out of the cookie!
Milk and Cereal Cookies :
(based on a combination of recipes by Christina Tosi of Momofuku Milk Bar)
312g plain flour
1/4 teaspoon baking powder
1/8 teaspoon baking soda
2 teaspoons salt
226g unsalted butter
100g caster sugar
100g light brown sugar
100g glucose
1 large egg
40g cornflakes, crushed
70g milk crumbs (recipe below)
50g dried cranberries or dried blueberries (optional)
Line two baking sheets with baking paper; set aside.
In a bowl, mix together the flour, baking powder, baking soda and salt; set aside.
In the bowl of an electric mixer fitted with the paddle attachment, cream the butter and both the sugars. Add the glucose and mix until well combined. Add the egg, mixing to combine, then fold in the flour mixture, followed by the cornflakes, milk crumbs and dried berries (if using).
Using an ice-cream scoop about 2 1/8 inch in diameter, scoop dough into balls and place them about 2 inches apart on the prepared baking sheets.
Preheat the oven to 190'C. Transfer baking sheets to refrigerator until dough is chilled, about 15 minutes. [Note: You can bake them straight away instead of chilling, if you can't wait. The resulting cookies will be slightly flatter] Transfer baking sheets to oven and bake, rotating pans halfway through baking, until cookies are golden brown and tops begin to crackle, about 15 minutes.
Transfer cookies to a wire rack to cool.
Milk crumbs :
(This makes more than you need, but the crumbs are a delicious addition to other things, such as muffins)
1/4 cup plus 1 tablespoon skim milk powder
2 tablespoons plain flour
1 tablespoon cornflour
1 1/2 teaspoons sugar
1/8 teaspoon salt
20g unsalted butter, melted
1/4 cup white chocolate buttons, melted
Preheat the oven to 110'C. Line a baking sheet with baking paper; set aside.
In a medium bowl, whisk together 2 tablespoons plus 1 1/2 teaspoons milk powder, flour, cornflour, sugar and salt. Stir in the melted butter until well combined. Spread mixture on prepared baking sheet. Bake until dried and crumbly, about 12 minutes. Remove milk crumble from oven and let cool completely.
Transfer milk crumble to a large bowl and fold in remaining 2 tablespoons plus 1 1/2 teaspoon milk powder and melted white chocolate. Use immediately or transfer to an airtight container and keep refrigerated until ready to use.
Tags: cookies, cranberry, crumble, white chocolate